:: Vanilla Spice Donuts With Maple Glaze ::
Who doesn't love a warm glazed donut? These Vanilla Spice Donuts With Maple Glaze are tasty and full of fall flavors with a hint of Halloween wrapped into one. Both kids and adults alike love donuts . I think donuts bring along a sentiment of childhood in all of us. I remember going to Winchell's as a kid on a special occasion and being able to pick out the largest apple fritter with a little carton of milk. I loved that!
Today, my kids love going to get donuts. I have over the years built some sentiment into their childhood with us going to get a donut on Sunday morning. Sometimes, we bike to the store, or walk, either way it's time with my kids that I have enjoyed. It gives us an activity to do as my husband is often scheduled to work on family day, Sunday. This particular Sunday, the kids had asked for donuts and I decided it was time to make a homemade version of a simple frosted donut. These Vanilla Spice Donuts With Maple Glaze are kid friendly and adult approved, oh yeah did I mention, they are baked and not fried.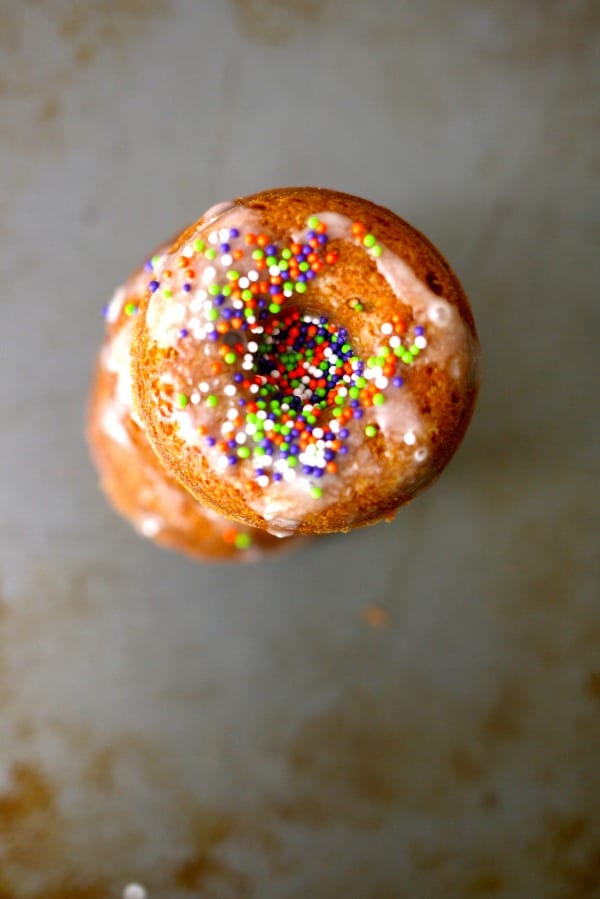 These donuts are pretty easy to make, I used a 12 cavity mini doughnut pan. Homemade and a little bit healthier than a store bought donut. The kids loved decorating them with Halloween Sprinkles. For more kid friendly Halloween treats check out our Spooky Orange and Carrot Smoothie as well as our recipe for Halloween Rice Krispie Treats.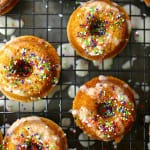 Print Recipe
Vanilla Spice Donuts With Maple Glaze
Ingredients
For Donuts:

A donut pan

I used the Wilton Mini Donut Pan that makes 12 donuts

1

cup

flour

1/2

cup

sugar

I used Zulka Pure Cane Sugar

1/2

cup

buttermilk

1/4

teaspoon

salt

1

teaspoon

pumpkin spice

1/2

teaspoon

vanilla

1/2

teaspoon

baking powder

1

egg

4

tablespoons

butter at room temperature

For Glaze:

2

tablespoons

buttermilk

1/2

teaspoon

vanilla

1

tablespoon

pure maple syrup

1

cup

powdered sugar
Instructions
Preheat your oven to 350 degrees F

Spray your donut pan with non-stick spray and set aside.

In a small bowl, whisk together the flour, baking powder, pumpkin spice, and salt set aside

In the bowl of a mixer blend the butter and sugar together until fluffy.

Add the egg and continue to mix.

Slowly add the dry ingredients 1/4 cup at a time alternating with the buttermilk.

Mix until blended.

Pour the batter into the donut pan about 1/2 to 3/4 full.

Place in the oven and bake for 15-18 minutes

While the donuts are baking, in a small bowl whisk the glaze ingredients until smooth.

When the donuts are done, glaze the donuts right away and set aside to cool.

Serve warm