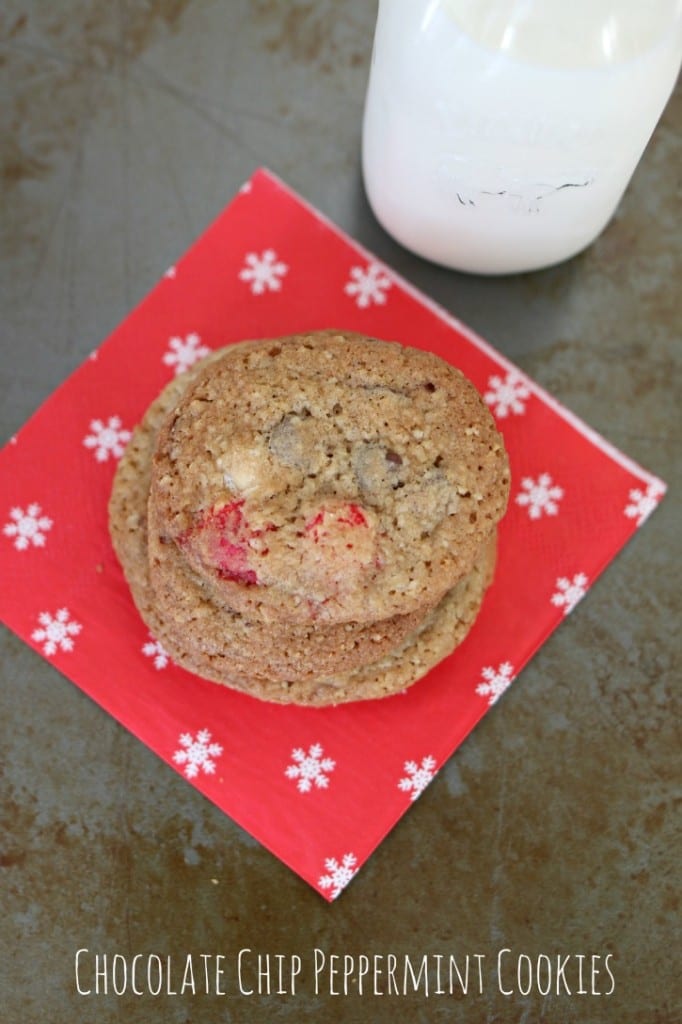 Chocolate Chip Peppermint Cookies //
We are just days away from school being out and all of the holiday fun to begin. Like many of you, the last couple weeks leading up to the holiday break are packed full of performances, gift exchanges, and class room parties….not to mention a cookie exchange or two thrown into the mix. For the past few years, I have attended one of my dear friends fun and festive cookie exchanges. Her rules are simple…7-9 dozen of the same cookie. Homemade and in the comments of the Evite, she monitors to make sure we all have a variety of cookies to share. 7-9 dozen cookies you say….crazy right!?, but not so crazy once you have attended one of her parties. Every year she rounds up all of the wrapping (bags, bells, boxes, and tags) so you can create gifts for teachers, neighbors, friends, heck even for the mailman, and sets them out on a large table. Once you do your rounds of picking all of the 7-9 dozen cookies you need, you sit down with a celebratory drink and start wrapping cookies in the prettiest of ways.
It's a fun way to visit with friends, meet new ones, and find a new favorite cookie or two. This year, like last year, I be bringing these yummy and simple, Chocolate Chip Peppermint Cookies. The recipe calls for a few ingredients, but the kicker is that it makes approximately 112 cookies. The perfect recipe for an exchange as it is only one batch of cookies, and best of all I made mine ahead of time and was able to freeze the dough.
Every year I leave this cookie exchange; happy, festive, and accomplished. Sara and I hope you like this recipe and try it over the next week with your kiddos, as we are sure they will love the sweet combo of peppermint candy and chocolate chips. Let us know what you think?, we hope you bake a batch before company arrives.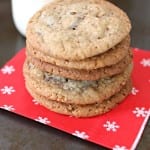 Print Recipe
Chocolate Chip Peppermint Cookies
Ingredients
2

cups

softened unsalted butter

12

ounces

semi-sweet chocolate chips

12

ounces

white chocolate chips

1

bag of White Chocolate Peppermint M&M's

4

cups

flour

2

cups

brown sugar

2

cups

sugar

5

cups

of oatmeal blended

2

teaspoons

baking soda

2

teaspoons

baking powder

1

teaspoon

salt

4

eggs

2

teaspoons

of vanilla
Instructions
Measure oatmeal and blend in a blender of food processor until it's a fine powder.

Add oatmeal to a large bowl along with the flour, salt, baking powder, and baking soda.

Whisk lightly to blend the ingredients and set aside.

In the bowl of a mixer blend the butter until smooth.

Add the sugars and blend until light and fluffy.

Add the eggs and vanilla until blended.

Next add the oatmeal/flour mixture one cup at a time. Blending in between in short periods so that you don't over mix the cookies.

Once done with the flour add both of the chocolate chips and m&ms and mix until incorporated by hand or by mixer.

Roll the cookies into 1-2 inch balls and set on a baking sheet. Bake for 8-10 minutes.