:: M&M Skillet Cookie ::
It's fall and I am feeling inspired by all that I see. Target really has a way of taking a hold of oneself with it's lovely displays of Halloween and all its seasonal M&M's. I can't help it….the kids want chocolate chip cookies, and I am thinking we need something new… something that I actually have to think a little bit about and use one of the many gadgets that I like to covet. How many of you have this problem? I love kitchen appliances, cake plates, pans, and coffee mugs….I can go on and on. The problem is I buy them and then I sit and wait. I wait to decide the best possible recipe I will create to use in that special addition to my kitchen. So I am breaking out my Lodge cast iron and I am making it simple. Two dishes to clean and I don't have to roll out cookies, set them aside to cool, and repeat. One pan and you get to slice your cookie out of it. Genius and easy! This M&M Skillet Cookie is simply inspired by BJ's Restaurant. When I first arrived at Long Beach State as a Freshman, BJ's in Belmont Shore was a fun meet-up for food, friends, and family. We would always end our meal with a Pizookie. Since my kids have recently had their first try of one, I am making an at home version… and its not going to be in a small pan. No rush to finish and we did top it with ice cream. Yum!
See what I mean about this little fall M&M's…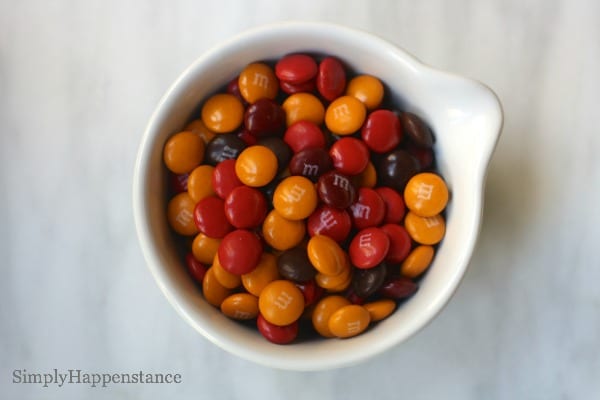 Equal inspiration credits have to go to my Lodge cast iron skillet…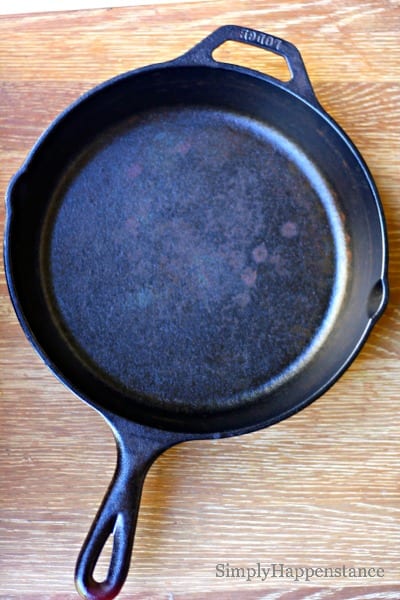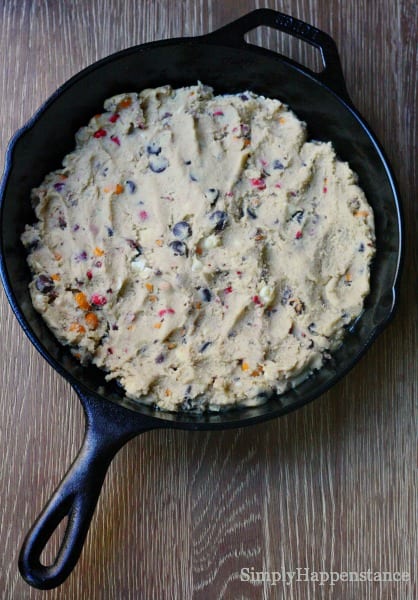 M&M Skillet Cookie
This is the similar to a basic chocolate chip recipe much like a Nestle Toll House Cookie but altered for a skillet plus the yummy goodness of M&M's
Ingredients
1 1/2

cups

flour

1

teaspoon

of baking soda

1

teaspoon

of vanilla

1/4

teaspoon

of salt

1

stick of unsalted butter

1/2 cup

2/3

cup

brown sugar

2/3

cup

of granulated sugar

1

egg

1

cup

of M&M's

1

cup

of semi-sweet chocolate chips
Instructions
Preheat oven to 350 degrees F.

Spray non stick spray or lightly grease your cast iron pan and set aside.

With the aide of a mixer, blend butter and sugars together until smooth.

Turn off mixer.

Add the egg and vanilla until mixed all the way through and the mixture is golden brown.

Gently add flour, baking soda, and salt together.

Mix together until blended but mix only a few times as to not make the dough dense.

With a rubber spatula fold in the chocolate chips and m&m's.

Spoon in the cookie dough unto the cast iron pan.

Press with your fingers around to flatten into the pan and cover the pan completely with the cookie dough.

Place in the oven for 17-20 minutes. Checking often.

Take out of the oven once you have checked the center is done and let it rest until the cookie is almost cool and serve with a scoop of ice cream.
Notes
This is a super simple recipe and it's a joy to eat. My family loved it as much as the famous restaurant dessert. Yum!
Adapted from Nestle Toll House Cookie Recipe