:: Strawberry Orange Banana Popsicles ::
It's spring break for us this week, which means the snacking will begin at approximately 9 a.m. Hence I have to work ahead and think of some healthier snack choices that are fun and exciting during our week off. This Strawberry Orange Banana Popsicle recipe has to be the easiest recipe that I know. My kids love these in the summer time, but we are on a stay cation at home, meaning that momma has to be a little more creative and these Strawberry Orange Banana Popsicles are just that. Sweet yet healthy, they are sure to be a hit on warm day.

You don't need a fancy blender or even a bowl to stir this up with…..just a set of popsicle molds and your everyday blender. I have had this Tovolo set for a couple of years and in fact I loved them so much I also have a set of rocket popsicle molds that I used to make the Homemade Fudgesicle Recipe that we shared with you last summer. They can be purchased on Amazon. They are inexpensive and easy to wash. Not only are these Strawberry Orange Banana Popsicles a quick recipe to make, they only require 5 ingredients. Since strawberries have been abundant in our neck of the woods, I have been purchasing two to three pounds at a time and end up having to freeze some by the weekend. Bananas are a household staple and oranges are easy to come by as well. Throw in one banana, some strawberries, the juice of one orange, low-fat vanilla yogurt, and lastly a some agave syrup or honey and you are set. I timed this, 5 minutes or less and you will have the mixture for these Strawberry Orange Banana Popsicles. Your kids will love them and you will love letting them enjoy this healthy frozen treat.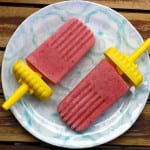 Print Recipe
Strawberry Orange Banana Popsicles
Ingredients
1

banana

1

orange

1

cup

of strawberries-sliced

1/2

cup

of vanilla low-fat yogurt

1

squeeze of honey or agave syrup
Instructions
Add the strawberries and the banana to the base of a blender.

Squeeze one whole orange into the blender

Add the yogurt and the agave syrup/honey to the blender.

Cover and blend until smooth.

Pour the blended ingredients into 6-8 popsicle molds.

Place in the freezer for 2-3 hours and enjoy.