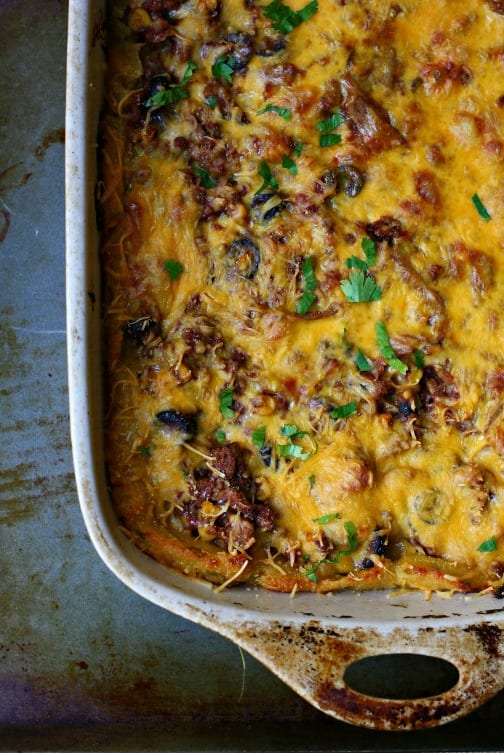 :: Cheesy Tamale Pie ::
Life is a balancing act. This Cheesy Tamale Pie is the perfect example of that. I have made this recipe over a hundred times in my married life. It is epitome of Mexican comfort food, but it also can be made as a healthier version when you need to cut back on the calories. So don't fear, you can enjoy this casserole while making your family as happy as "pie"… Cheesy Tamale Pie that is!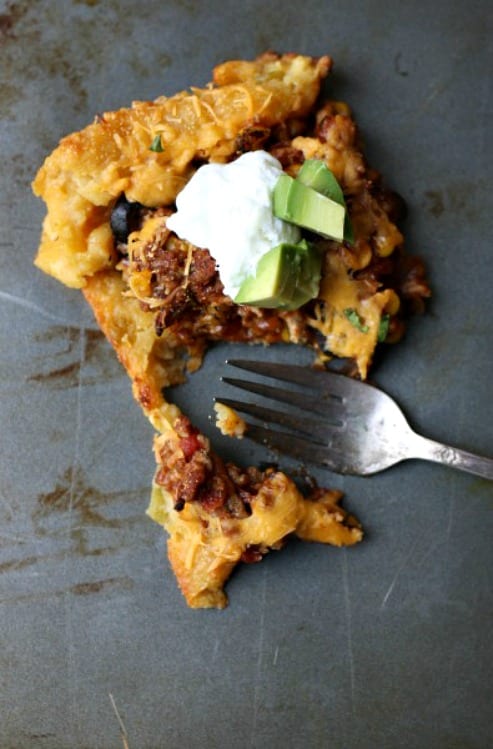 This Cheesy Tamale Pie is one of Shane's favorites. Crazy enough, he thinks the leftovers of this meal taste best for breakfast the next day. He fries an egg and places it on a slice of Cheesy Tamale Pie and calls it a great start to his day! I have been making this recipe for almost 11 years, and let's just say it has kept my husband happy! I often substitute most of this recipe with lower calorie swap-outs, such as using ground turkey meat, lower fat cheese, and toppings. Make it your own, I sure did! Thank goodness for random magical recipe finds on the back of taco seasoning! Let us know how your Cheesy Tamale Pie comes out. Perfect for an upcoming summer potluck! Serve with your favorite margarita and top with avocado and sour cream. Yum!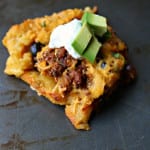 Print Recipe
Cheesy Tamale Pie
Ingredients
Filling:

1

lb.

lean ground beef or turkey meat

1

small onion chopped

1

16 oz.jar salsa

1/3

cup

water

1

pkg. taco seasonings

1

cup

frozen corn kernels

1

can can sliced olives drained

Crust:

1

cup

yellow or white corn meal-I used jiffy corn bread mix

1

can

12 oz. low fat evaporated milk

1

can diced chiles

1

cup

shredded cheese

Toppings

sliced avocado

sour cream
Instructions
Preheat oven to 425 F.

Grease a 9x13 casserole dish and set aside.

For the filling:

Cook the meat and onion (chopped) in a large skillet until the meat is browned.

Drain the meat.

Stir in the salsa, water, and taco seasoning.

Reduce the heat to low and cook until the liquid is dissolved.

Add in the olives and corn.

Turn the heat off.

For the Crust.

In a large sauce pan, combine corn meal, green chiles, and evaporated milk.

Stir together.

Add in a half cup of cheese.

Keep continuing to stir until the mixture has thickened (approx. 5 minutes.)

Spoon the crust mixture out of the saucepan and layer it on the bottom of the 9x13 casserole dish.

Make sure to flatten it out across the whole pan.

Then spoon the meat filling on top of the corn crust.

Bake for 25 minutes.

Pull the casserole out and top with remaining cheese.

Place back in the oven for 5 more minutes until cheese is melted.

Let cool and serve with avocado and sour cream.