Berry Vanilla Quinoa Bowl //
Hello, friends! It sure has been a long time since Nicole and I have posted a recipe here on our sweet blog! We've missed you all… and are excited to be back in our creative space! 
So, my family and I recently took a summer road trip to Colorado. Driving from Southern California was going to be quite a long time in the car for our four kids — so we decided to spend one night outside of Zion National Park in Utah. (What a grand adventure that turned out to be! In fact, it was so amazing, that I think I will do a separate post on our travels sometime in the near future.) While staying in the darling town of Springdale, my husband found the most wonderful coffee shop with tasty organic treats for breakfast. He picked up a quinoa breakfast bowl, which I've been craving ever since!
This Berry Vanilla Quinoa Bowl was inspired by the one we shared this summer! It's simple to make, healthy, and insanely delicious!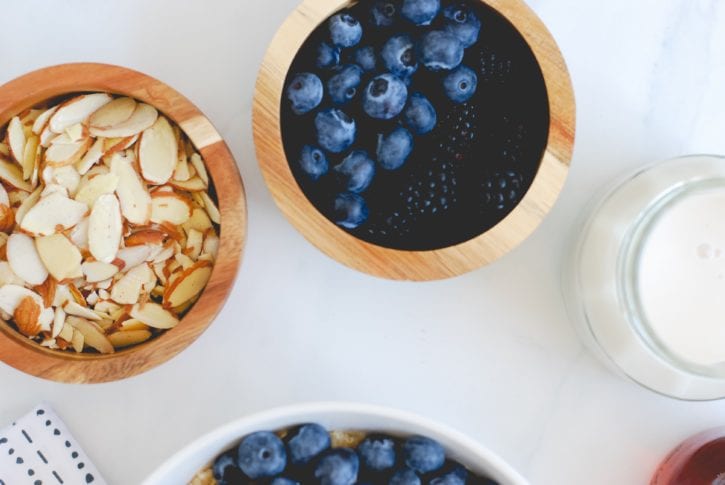 Just like making your favorite batch of soup… this quinoa breakfast bowl allows you the freedom to add a pinch of this, a little of that, and whatever fresh fruit, nuts, or seeds you have on hand. The key to making it extra decadent, is infusing the quinoa with hints of vanilla and topping it with a drizzle of pure maple syrup.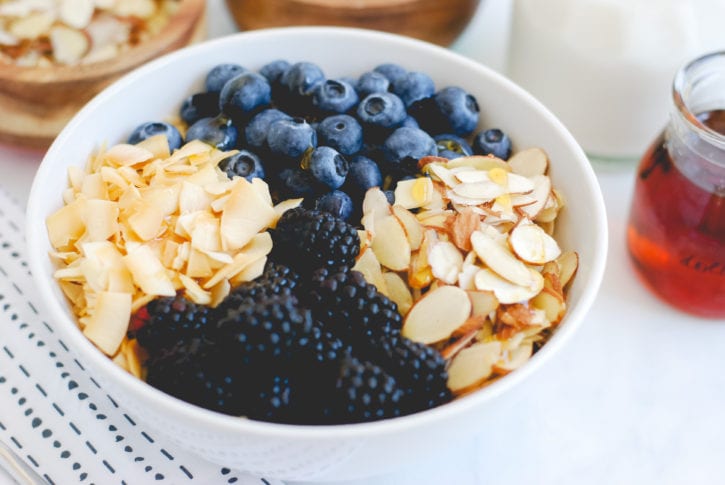 For this particular variation, I topped my prepared quinoa with fresh blueberries, sweet blackberries, roasted coconut, and slivered almonds. I then poured a drizzle of pure maple syrup with a splash of vanilla almond milk, to sweeten things up naturally… and to keep it moist. The end result was absolutely scrumptious! My four kids even approved!;)
TIP // Quinoa will stay fresh in your fridge for up to a week. I recommend placing the cooked quinoa in individual mason jars with lids. This will create a quick, on-the-go, healthy breakfast option for you and the kids! Simply mix in your favorite toppings and enjoy!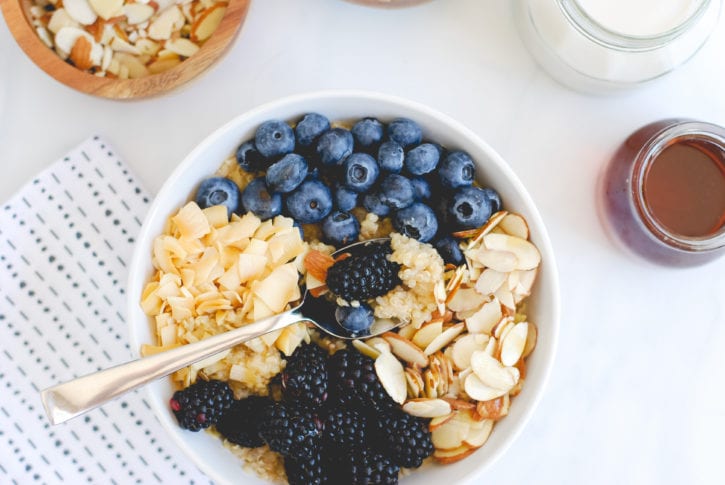 Berry Vanilla Quinoa Bowl
Prep time:
Cook time:
Total time:
This Berry Vanilla Quinoa Breakfast Bowl is infused with hints of vanilla and topped with fresh seasonal berries, roasted coconut, slivered almonds, a splash of almond milk, and a drizzle of pure maple syrup. Not only is it irresistibly delicious, but is a clean and healthy way to start the day! It's also kid approved!
Ingredients
QUINOA:
1 cup uncooked quinoa
2 cups unsweetened vanilla almond milk
1 teaspoon vanilla extract (or sliced vanilla bean)
pinch of sea salt
TOPPINGS:
fresh berries (I used blueberries & blackberries)
roasted coconut (I used these)
slivered almonds
splash of unsweetened vanilla almond milk
pure maple syrup
Instructions
Rinse and drain the quinoa.
Place the quinoa in a medium-sized saucepan. Add the almond milk, vanilla extract (or vanilla bean split), and a pinch of salt. Bring to a high simmer, cover, and reduce heat to a low simmer for 15 minutes.
After 15 minutes, remove the pan from the heat and let the quinoa sit for 5 more minutes or until the almond milk is absorbed and the quinoa is cooked. (If you used the vanilla bean -- remove now and discard.) Depending on how you like the consistency and flavor -- stir in a splash of almond milk (to increase moisture), and some maple syrup to sweeten (if desired).
Scoop the quinoa into four bowls. Top with rinsed berries, roasted coconut, and slivered almonds. Serve with a splash of vanilla almond milk poured on top and a drizzle of pure maple syrup.
Notes
- This dish can be served chilled or warm. To serve chilled, simply place the cooked quinoa in the refrigerator for at least 30 minutes before topping with fruit, nuts, etc.
- The cooked quinoa can be stored in the refrigerator for 4-5 days. Serve at room temperature or heat it as you're ready to serve. If it's dry, simply add some more almond milk until you reach a consistency you're happy with.
- Get creative and add any seasonal fruit you like. Other optional toppings are: chia seeds, almond butter (or other nut butters), raw honey, cocoa nibs or chocolate chips, and crunchy granola.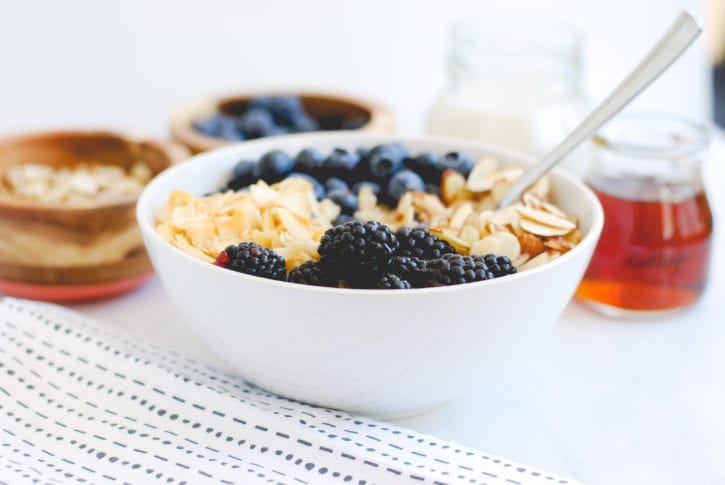 I hope you enjoy the recipe, friends! Let us know in the comments how you like to prepare your breakfast bowls!
For more of our favorite healthy breakfast bowl ideas, see these recipes from our archives: