Gluten-Free // Breakfast Power Bowl
Breakfast… it's hands-down, my favorite meal of the day. I honestly wake up each morning, excited for my cup of coffee and ready to eat! I typically start my day with a healthy protein shake or smoothie. However, if I have a little more time, or if it's the weekend, I get a bit more creative. Thank goodness for those days! They're truly my favorite!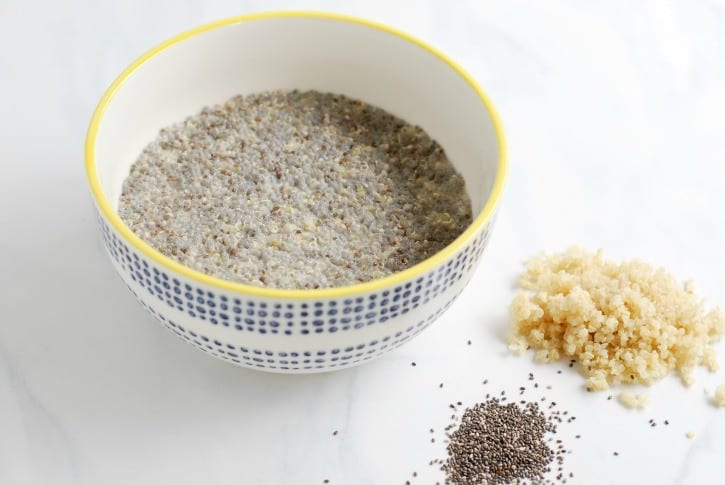 This satisfying dish is one you can whip up the night before. (Sure… that takes a little more planning, but some days just call for a special morning treat!) If you are already having quinoa for dinner… make a little extra! When the kids go off to bed, add some chia seeds and almond milk to it, give it a stir, and place it in the refrigerator until morning. Simple, right?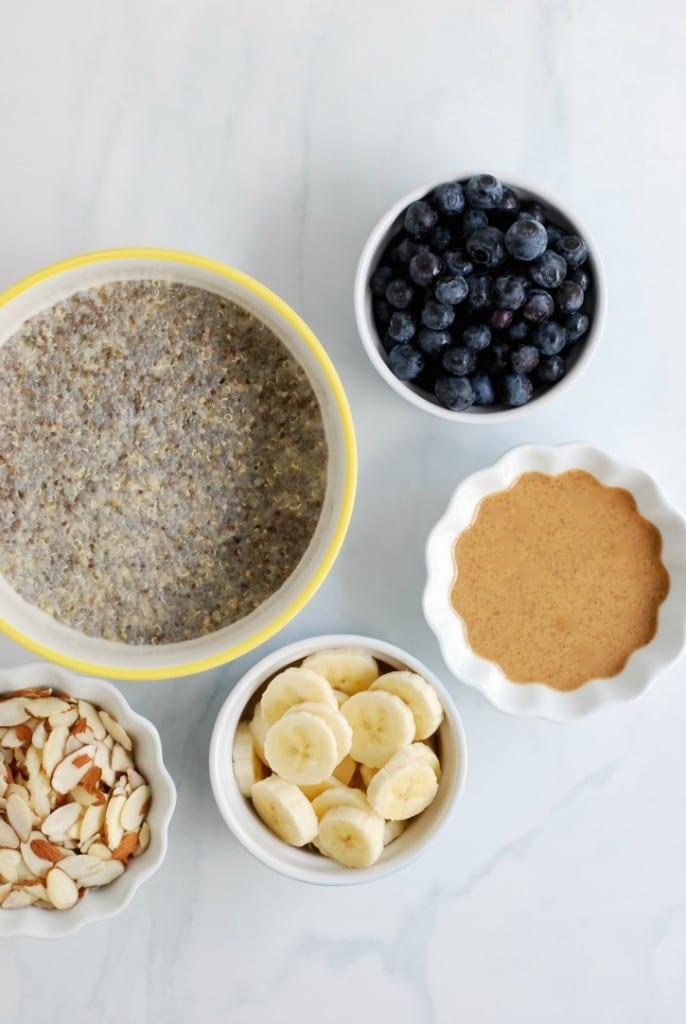 When you wake, cut some fresh fruit, rinse some berries, get out your sliced almonds, and warm up some almond butter (plus honey, if you'd like). Top the quinoa/chia seed/almond milk pudding with your favorites! You'll be left with the tastiest (healthy) power bowl!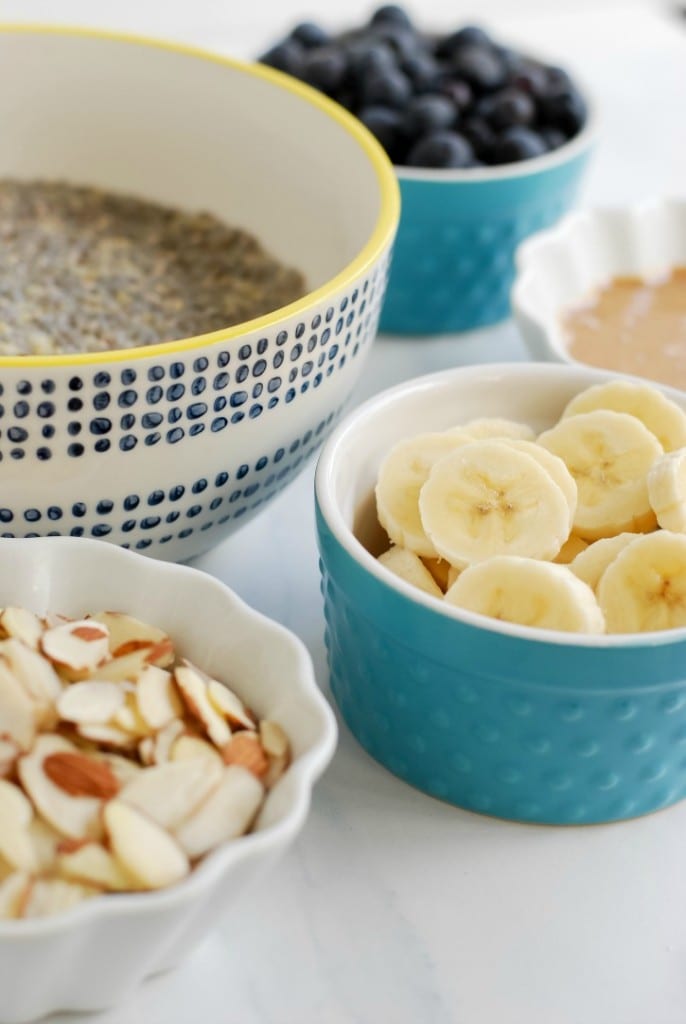 For those of you that don't like almond butter, you can use a tiny bit of coconut oil (in its place), or add in a few tablespoons of coconut/almond milk to keep the breakfast bowl good and moist.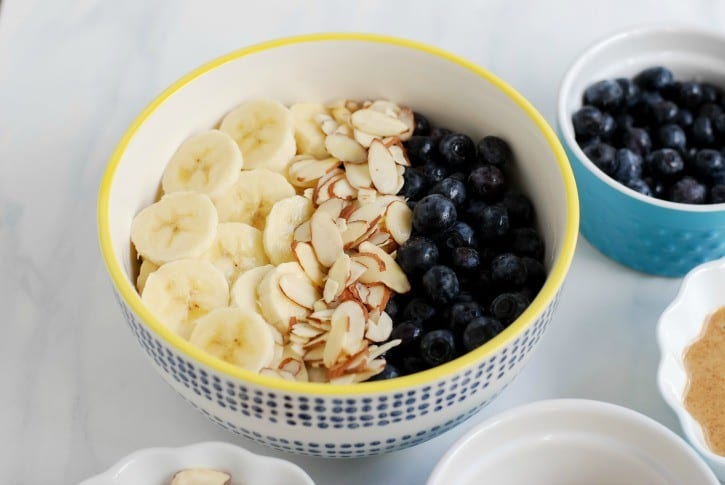 That being said, I personally wouldn't skip the almond butter! In fact, I'd even put some raw honey in it, heat it up slightly, and drizzle it all over the top, like so…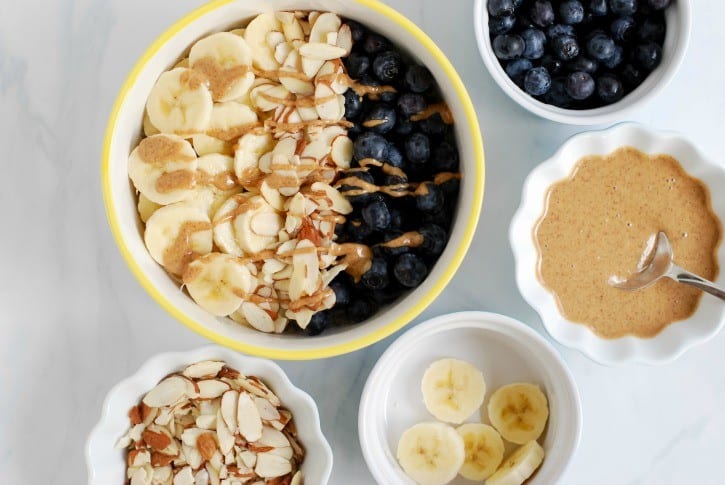 Now, let's talk health benefits…
Quinoa // naturally gluten-free and a complete protein
Chia Seeds // they're just AMAZING, but mostly known for their mega source of omega-3 fatty acids
Almond Milk // dairy-free and a great source of calcium
Fresh Fruit // neccesary vitamins, fiber, and antioxidants
Raw Almonds // healthy fat and vitamin E
Almond Butter // protein, helping you feel satisfied longer
Raw Honey // a natural (unrefined) sweetener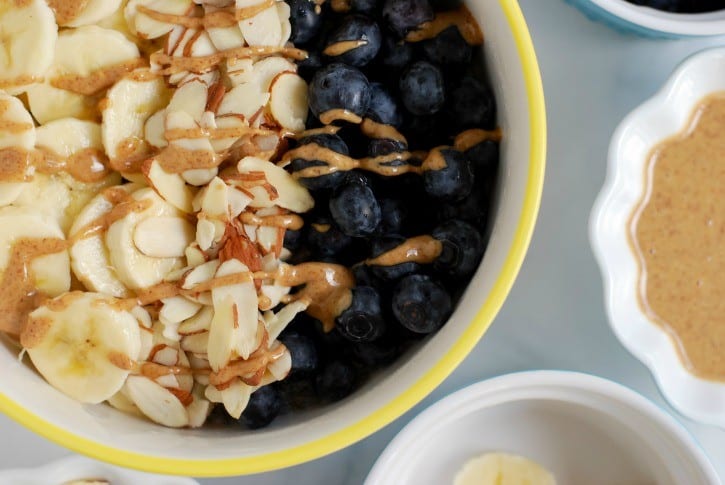 Other incredible toppings // sliced strawberries, raspberries, blackberries, kiwi, peaches, coconut shavings, goji berries, pomegranate seeds, pumpkin seeds, nut butters, cacao nibs, or crunchy granola.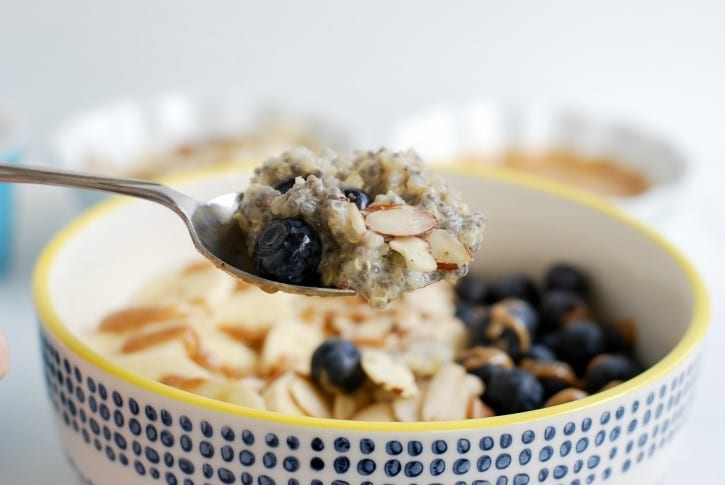 You could even add…. mini dark chocolate chips! (This creation was HEAVENLY!) You can really make the base of this quinoa pudding and add whatever you'd like! I don't think you could go wrong! Enjoy, friends!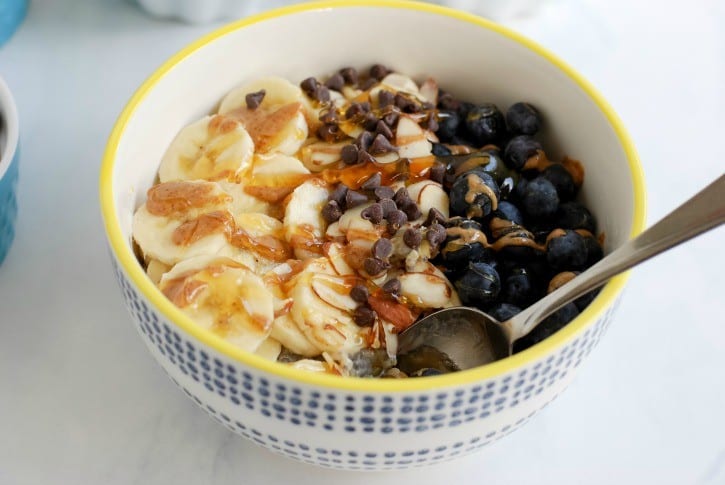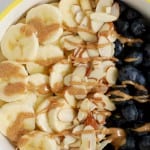 Print Recipe
Breakfast Power Bowl
This (gluten-free) Breakfast Power Bowl is a healthy alternative to your usual breakfast of eggs or protein shakes... a creatively delicious dish you're sure to love! It's filled with super foods that will keep you feeling satisfied and energized and can be topped with your personal favorites!
Ingredients
⅔

cup

cooked quinoa

3

tbsp

chia seeds

1

cup

unsweetened almond or coconut milk

1/2

tsp

vanilla

1/2

cup

rinsed blueberries

1

banana

sliced

3

tbsp

slivered almonds

2

tbsp

melted almond butter

or other nut butter

1

tbsp

raw honey

1

tbsp

dark chocolate chips or cocoa nibs

optional

*Other optional toppings // sliced strawberries

raspberries, blackberries, kiwi, peaches, coconut shavings, goji berries, pomegranate seeds, pumpkin seeds, nut butters, cacao nibs, or crunchy granola
Instructions
Stir together cooked quinoa, chia seeds, almond (or coconut) milk, and vanilla in a medium-sized serving bowl, until combined.

Pour mixture into one or two serving dishes. Cover with plastic wrap and refrigerate overnight (or at least 4 hours).

When ready to eat //

Rinse and slice fresh fruit.

Combine almond butter and honey in a saucepan or microwave-safe dish. Heat until warm.

Top quinoa pudding with fruit, slivered almonds, chocolate (optional), and a drizzle of the almond butter/honey mixture.

Serve and enjoy immediately.
Notes
This breakfast power bowl can be kept refrigerated for a few hours, however, if you use bananas, they will begin to brown.
Note // 4 hours cook time is actually refrigeration time.
For similar healthy morning recipes, check out a couple of our other creations //
Or, take a peek at our recipe index for other tasty breakfast treats!