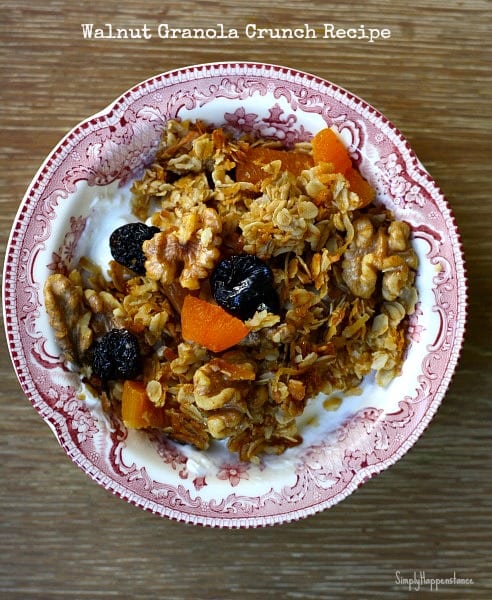 :: Walnut Granola Crunch Recipe ::
I am ADDICTED to Costco's Granola!!! Have you had it? Shane had to have a semi-intervention with me in regards to their granola, so I needed to whip up a batch of homemade granola stat! This Walnut Granola Crunch Recipe is healthy, delicious, and it makes your home smell incredible while it's baking. The smell of the sweet honey, oats, and walnuts create the perfect fall aroma. This is exactly why I love granola and oatmeal so much. It's healthy, filling, and it can be versatile. It is a fall favorite, but with a few simple switches, this granola can be enjoyed year around.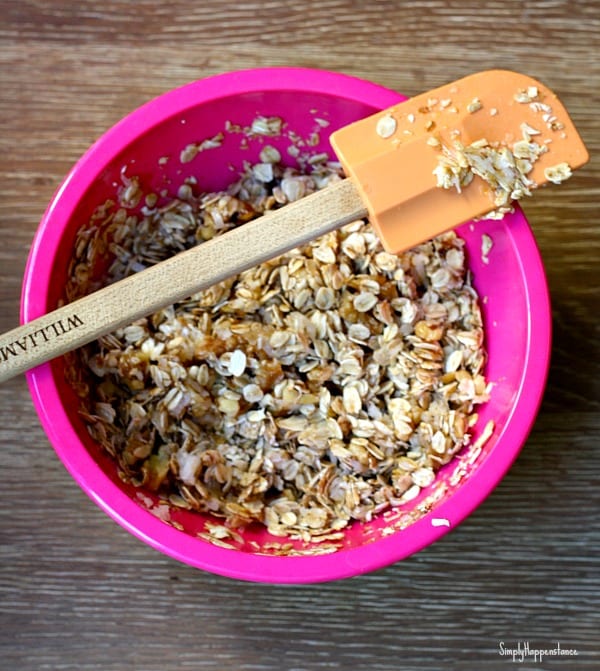 What is so very enjoyable about this Walnut Granola Crunch Recipe is the simplicity in making it. It really is as easy as it looks. I like to eat mine over Greek Yogurt and topped with fresh fruit. I think this recipe would be a delicious treat on a lazy Sunday morning, or sealed up in a pretty storage container and given as a gift!
Walnut Granola Crunch Recipe
Crunchy and sweet home made granola. Perfect topped with fruit or served over Greek Yogurt.
Ingredients
2

cups

quick cooking oatmeal.

1

cup

sweetened/shredded coconut

1

cup

walnuts

6

tablespoons

canola oil

4

tablespoons

honey

1

cup

dried cherries

1

cup

dried apricots

halved
Instructions
Preheat the oven to 350 degrees F.

Spray a large sheet pan with non stick cooking spray.

In a large bowl combine the oatmeal, coconut, walnuts, oil, and honey together.

Mix until completely combined.

Pour the mixture onto a sheet pan.

Place into the oven.

Stir the granola periodically to make sure the granola browns and not burns.

Cook time is approximately 20 minutes.

Pull the granola out when golden brown.

Once cooled, stir in dried cherries and apricots.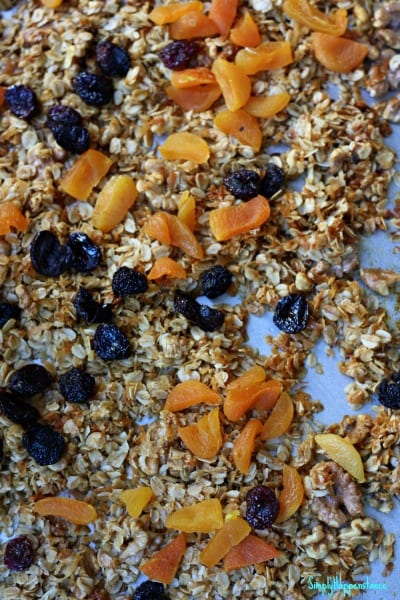 The crunchiness of the walnuts and the sweetness of the coconut makes for an instant new favorite! I hope you like this recipe as much as I do! Let us know what you think! I hope you make up a batch soon!