:: Woodland Decor Inspiration ::
Have you been noticing sweet little foxes, rabbits, deer, squirrels, and owls everywhere you look? I certainly have… and I LOVE it! I thought I'd share with you my top ten favorite Woodland Decor pieces for kids' rooms!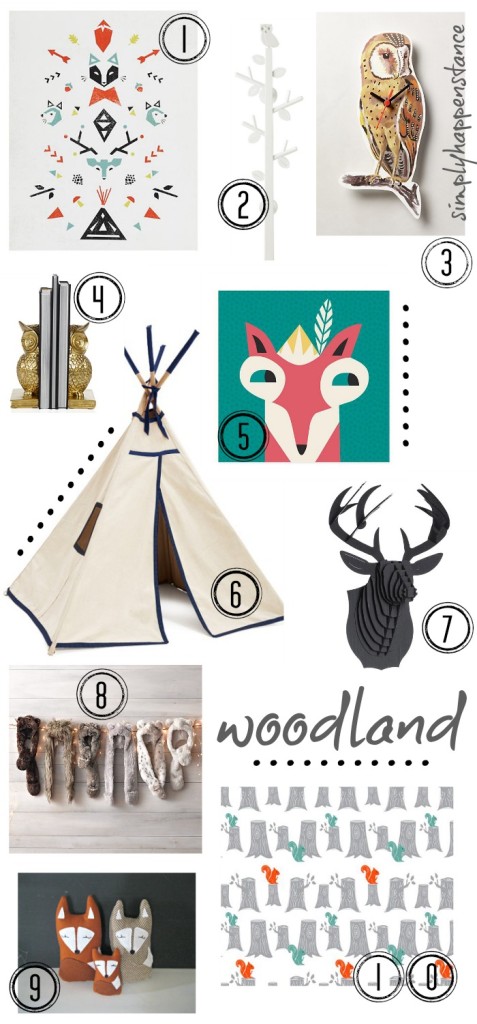 Perhaps it's our life in the mountains that has me enamored by these darling little forest creatures… or maybe it's that they are all so cheery and whimsical! Whatever it is… I simply can't get enough of all the fun decor possibilities! I am not a huge fan of themed rooms, but I think a sprinkling of what you currently love, is always a good thing when it comes to decorating! These ten would be super cute in a nursery, young child's room, or even in a playroom!
1. Woodland Friends Print // 2. Owl Branches Coat Tree // 3. Fable Foret Owl Clock // 4. Gold Owl Bookends // 5. Canvas Fox Wall Art // 6. Teepee // 7. Cardboard Deer Trophy // 8. Luxe Faux Fur Animal Hoods // 9. Forest Fox Trio // 10. Modern Woodland Wallpaper [Read more…]