Frozen Hot Chocolate //
We are just days away from the official start of fall… although if you've cruised by a Starbucks lately, you may think we are already there with their festive cups and pumpkin spice lattes! I crave autumn, especially after spending our year-long 'vacation from life' in the mountains. I, like so many others, find such comfort in throwing on a cozy sweater, a pair of warm boots, cuddling by the fire with my babes, and sipping on a warm seasonal drink! However, with all of that being said, I live in sunny Southern California, which makes it difficult to get into the fall spirit when it's still 100 degrees outside! (I'm not complaining, friends… as I know that would be crazy! We are truly blessed with lovely year-round weather!) I honestly have to remind myself each year that I will most likely be wearing tank tops, cutoff shorts, and flip flops through Halloween. #RealityCheck!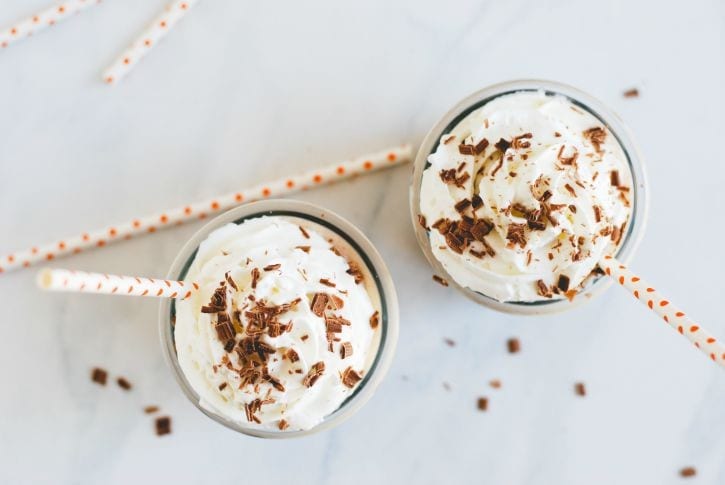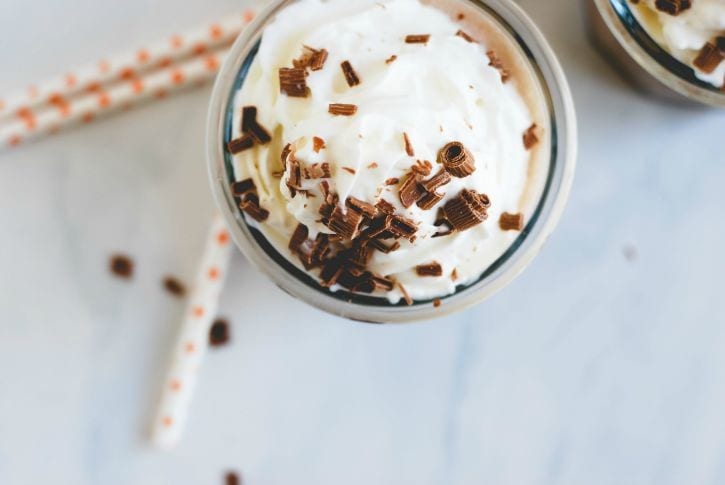 So, to get into the spirit of my favorite season (while still being practical), I decided it was time to finally make the Frozen Hot Chocolate recipe that's been bookmarked on my computer for so long!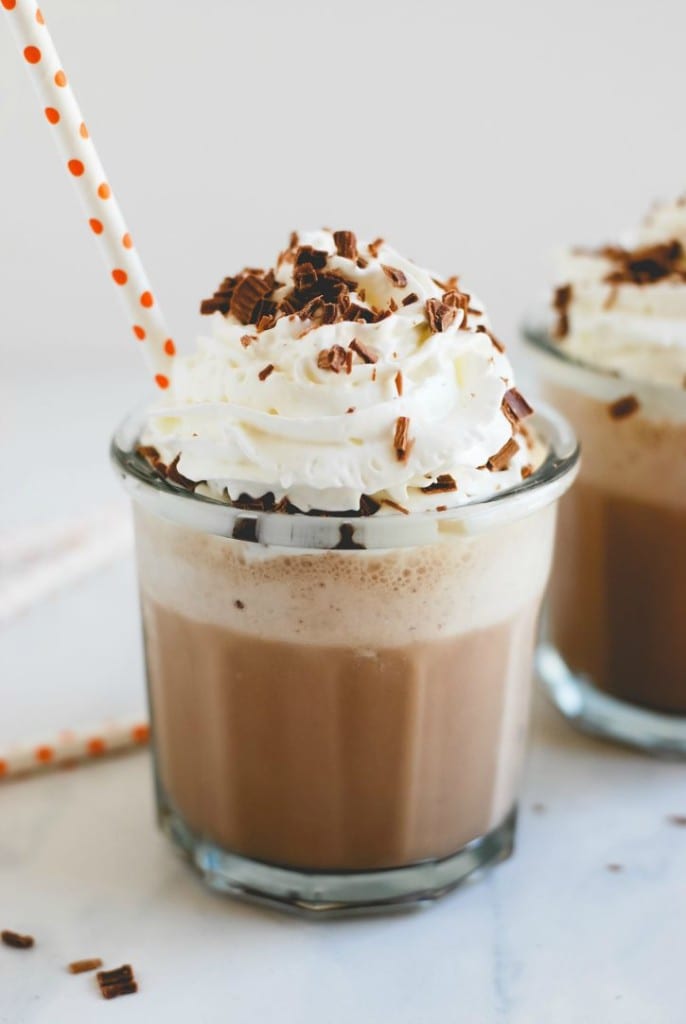 As I was savoring every sip of the creamy concoction, I was trying to find the right words to describe the heavenly drink. You might think that it's as simple as emptying a sleeve of hot cocoa mix in hot water, stirring it up, and then blending with ice. It's more than that…. so much more, friends! In fact… I wouldn't say I would typically make this recipe on a whim. It takes a tiny bit more prep work (still easy, I promise!)… but it's really worth it! The rich chocolatey flavor depends on the brand you choose. Knowing I was sharing this tasty drink with my four children, I chose to use Lindt Milk Chocolate versus a deeper dark chocolate. If I were you… I would put a little thought into what your favorite chocolate bar is, and use that as the base of your recipe! You'll love how it turns out!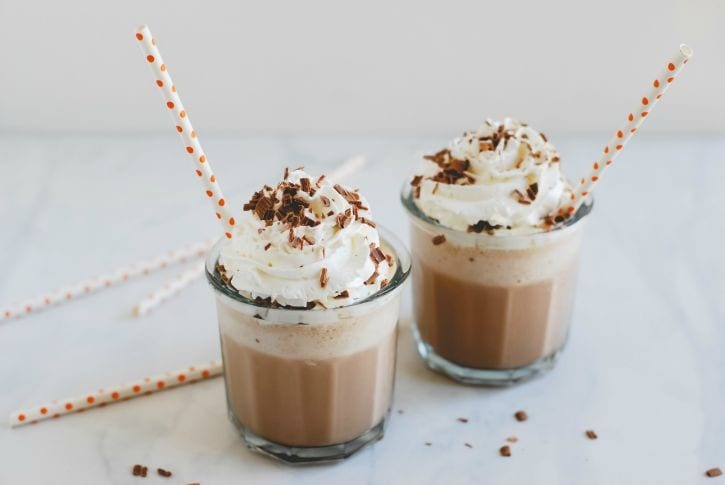 So getting back to the simple deliciousness of this drink… it's rich, chocolatey, sweet (but not too sweet), cold, thick, and frothy! It doesn't just taste like chocolate milk, or a chocolate shake… it's FROZEN HOT CHOCOLATE! Perfect for when you are ready for some fall faves… but it's still hot outside! Enjoy!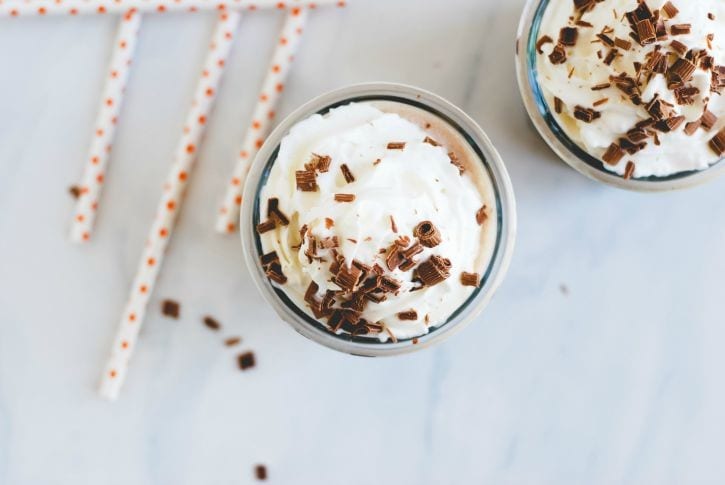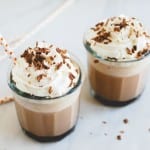 Print Recipe
Frozen Hot Chocolate
This Frozen Hot Chocolate is a deliciously festive seasonal drink to enjoy when it's still hot outside! Creamy, rich, chocolatey, cold, and frothy this will quickly become a traditional family favorite! Enjoy!
Ingredients
4-5

ounces

best-quality chocolate

I used one 4.4 oz. Lindt Milk Chocolate bar

2

teaspoons

store bought hot chocolate mix

1 1/2

tablespoons

granulated sugar

1 1/2

cups

whole milk

3

cups

ice

Spray Whipped Cream

optional, for garnish

Chocolate shavings

optional, for garnish
Instructions
Chop/break the chocolate bar into small pieces and melt in a small heavy saucepan or in the top of a double boiler over simmering water. Stir occasionally until melted.

Add the hot chocolate mix and sugar, stirring constantly until combined (consistency will be smooth).

Remove from heat and slowly add 1/2 cup of the milk, stirring until well mixed. Cool to room temperature (about 15-30 minutes).

In a blender, place the remaining 1 cup of milk, creamy chocolate mixture, and the ice. Blend on high speed until smooth and the consistency of a frozen daiquiri. Immediately pour into one giant goblet (to share), or in 4 small cups. Top with whipped cream and chocolate shavings, if desired. Enjoy!
Notes
Tips // Don't use baking chocolate! Make sure you buy your favorite chocolate bar for this recipe!
Original Recipe // https://www.foodnetwork.com/recipes/paula-deen/frozen-hot-chocolate-recipe.html
Check out some of our other Fall Favorite recipes here! Happy Fall!