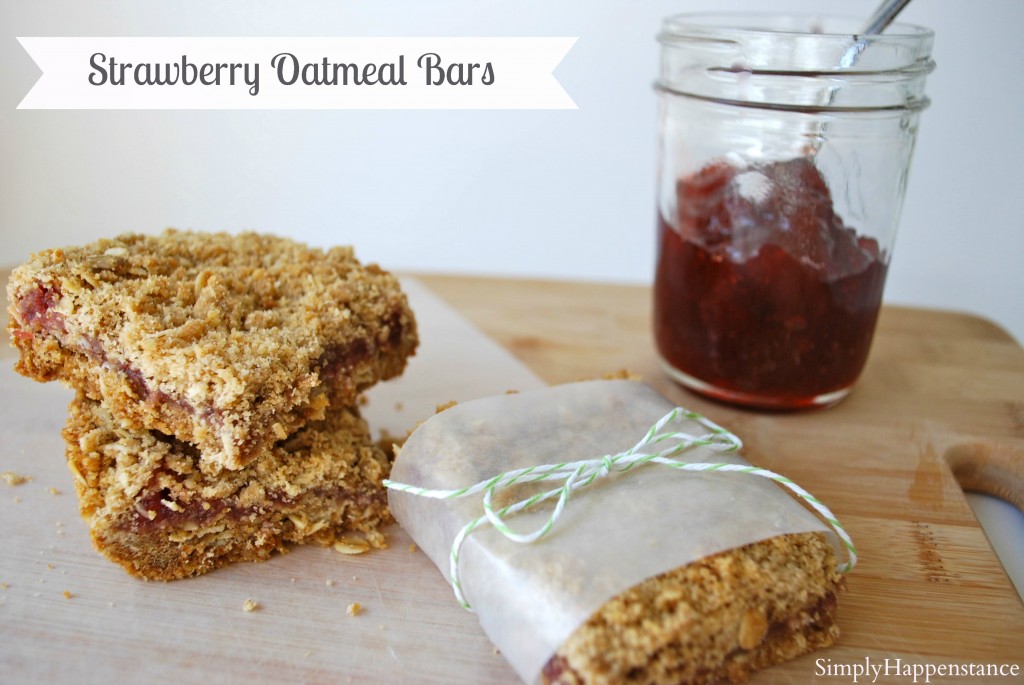 ::

Strawberry Oatmeal Bars

::

When it comes to baking, you just can't go wrong with a recipe that calls for a crumbly mixture of butter, brown sugar, and oatmeal {am I right?}! Combine those ingredients with your favorite flavor of jam {yum!} and you are left with a rich and chewy bar that you can enjoy as a snack or even served warm with a scoop of vanilla ice cream! These delicious bars also pack perfectly in kids lunches and would make a nice treat for a friend!

We were fortunate to have a jar of super sweet homemade strawberry jam that a friend had made for us in our fridge. I used it in this recipe… and I am sure it enhanced the pure tastiness! Although I used strawberry, you can use any flavor of jam of your liking. Peach… raspberry…. blackberry…. whatever you fancy or have readily available! The buttery, brown sugar oatmeal mixture is used for the base of the bar…. and the crumbly topping! It is super easy to make with only one-bowl needed!

The original recipe was taken from one of our favorites {the Pioneer Woman}. Nicole and I love all of her recipes… but as usual, we tend to make a few adaptations based on the ingredients we have on hand. Since my jam was very sweet… I cut back on the brown sugar. I also used half whole wheat flour and half white all-purpose to make it a tad bit healthier {hmm… not sure if that's possible with all of that butter}!! Any way that you choose to do it… they are sure to come out delicious! Enjoy!

Strawberry Oatmeal Bars

2013-06-03 20:24:51

Ingredients
1 3/4 sticks {cold} unsalted butter, cut into pieces, plus more for greasing pan
1 1/2 cups all-purpose flour
1 1/2 cups oats
3/4 cup packed brown sugar
1 teaspoon baking powder
1/2 teaspoon salt
One 10 to 12-ounce jar strawberry jam/preserves
Instructions
Preheat the oven to 350 degrees F. Butter a 9-by-13-inch rectangular pan.
Using a pastry cutter or your hands, mix together the butter, flour, oats, brown sugar, baking powder and salt. Press half the oat mixture into the prepared pan. Spread with the strawberry jam/preserves. Sprinkle the other half of the oat mixture over the top and pat lightly.
Bake until light brown, 30 to 40 minutes. Let cool completely, and then cut into squares.
Adapted from The Pioneer Woman
Simply Happenstance https://www.simplyhappenstance.com/