:: St. Patrick's Day Caramel Corn ::
I hear the tip toeing of little leprechauns coming our way next week! Do your kids love St. Patrick's Day? This St. Patrick's Day Caramel Corn is a favorite in my household. So much so that my husband took off with the bag that we had left. So actually a big leprechaun loves this as much as the kiddos. We have been making this Caramel Corn recipe for a few years. My son's birthday is the week before Halloween so during that time of the year we make it as a party treats. It's a super easy recipe passed down from my mother in law, but now I make it too as we are big caramel corn fans, add in a little green food coloring and you have yourself a green treat that guarantees zero pinching and a whole lot of snacking.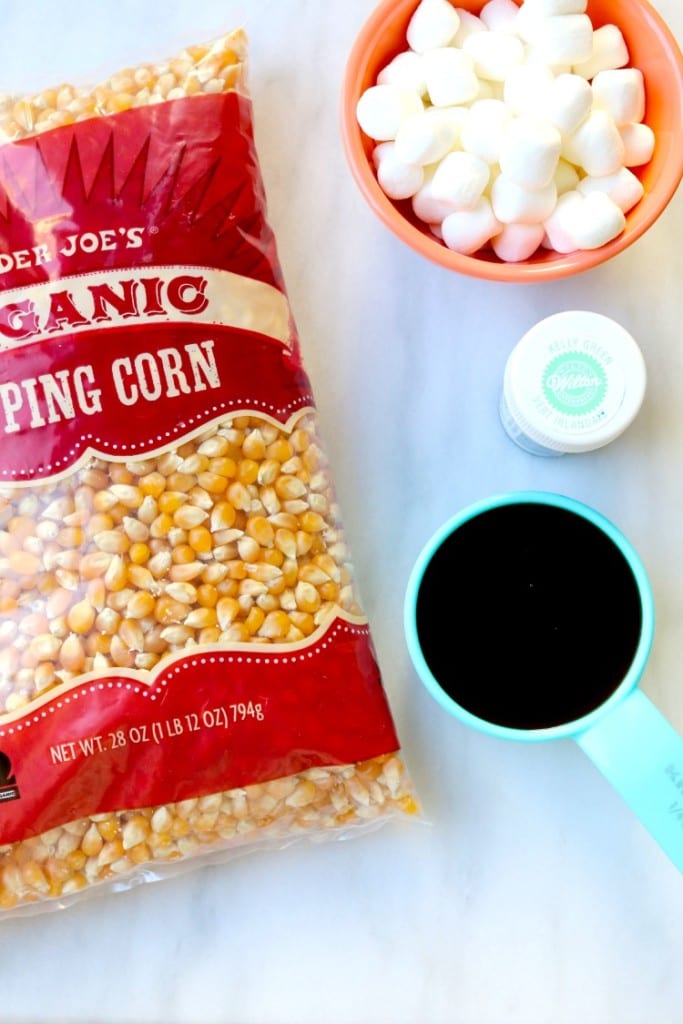 Recently we purchased an air popcorn maker. It's easier than making microwave popcorn, and it's healthy to boot. No more burning the popcorn bag in the microwave. If you don't want to bother purchasing one, microwave popcorn will work just as well.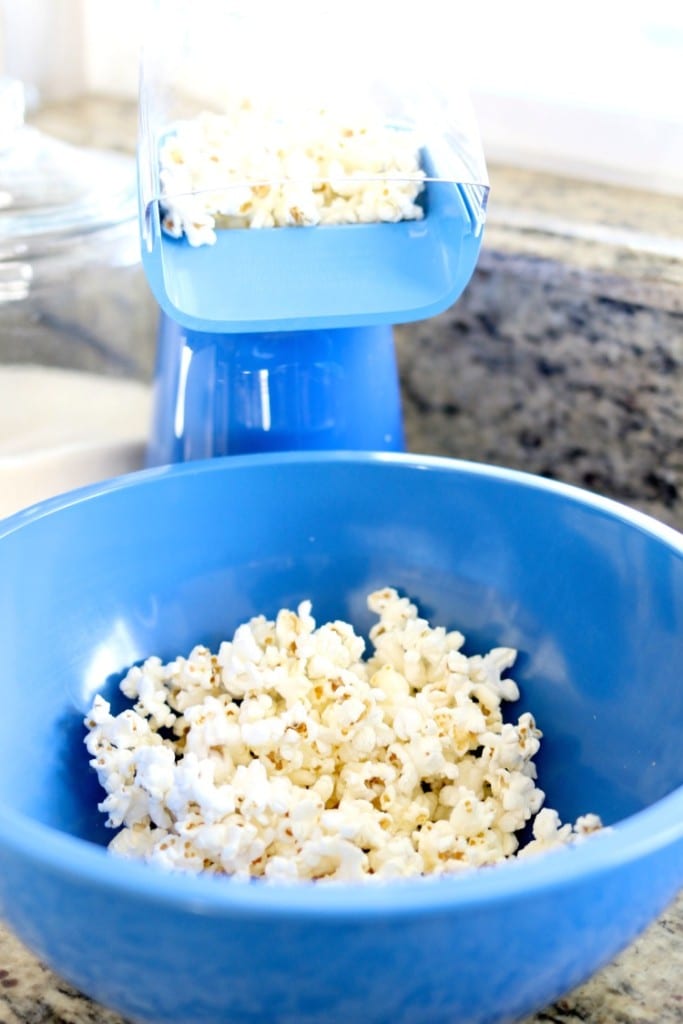 While the popcorn is popping you can make the caramel sauce that calls for brown sugar, vanilla, Karo Syrup, baking soda, and a few drops of green food coloring. A must if you are hoping to catch a leprechaun.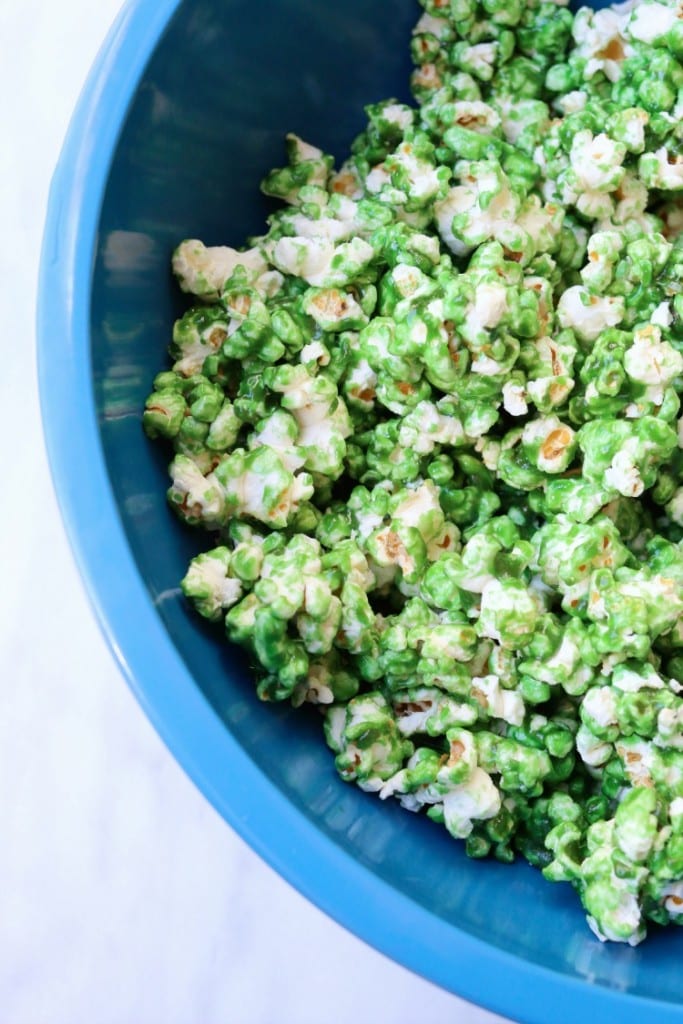 Once the caramel is made pour over the popcorn. Mixing well, you spread this over two large baking sheets. You will need to place this in the oven on a low temperature mixing every 15 minutes for an hour.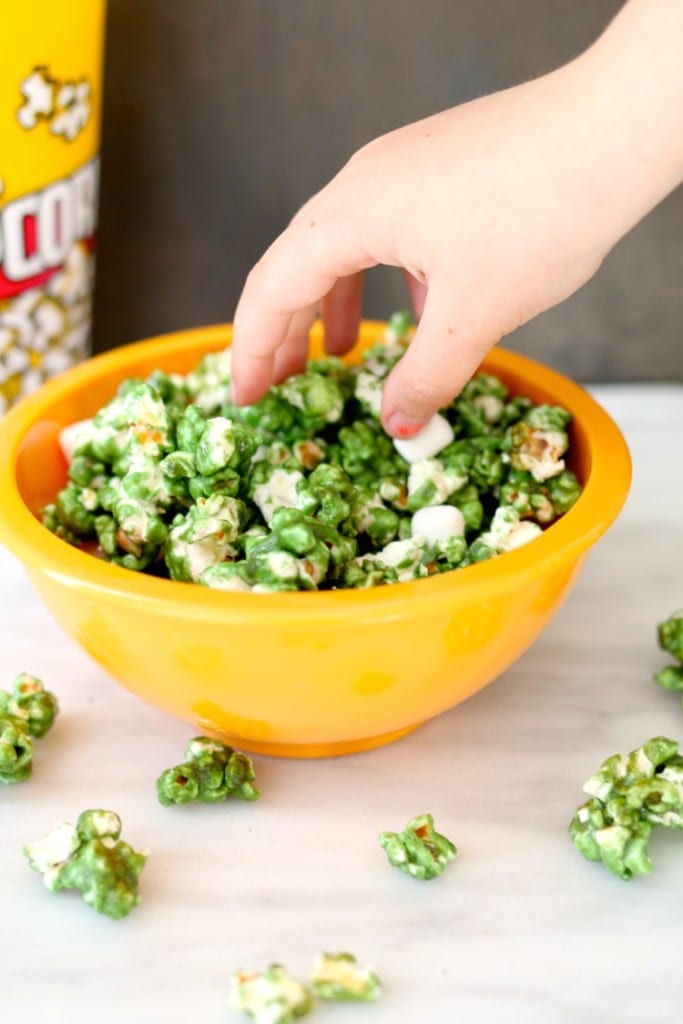 See little leprechauns, I mean kids love this St. Patrick's Day Caramel Corn, and you will too. I personally call this, popcorn crack in a good way, but hey St. Patty's Day is only once a year, and if we aren't doing what we did in our twenties on this day, then we deserve some caramel corn!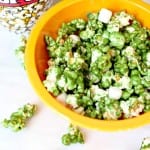 Print Recipe
St. Patrick's Day Caramel Corn
Ingredients
10

cups

popcorn

1/2

cup

butter

1

cup

brown sugar

1/4

cup

dark corn syrup

1/2

teaspoon

salt

1/4

teaspoon

baking soda

1/2

teaspoon

vanilla

4

drops of green food coloring.

cooking spray
Instructions
Preheat oven to 225 degrees F.

Grease two large cookie sheets and set aside.

Pop your popcorn and set aside in a very large bowl.

Place a medium size pot on the stove.

Place butter in the pot and melt.

Add the brown sugar, salt, and corn syrup.

Mix until fully melted together.

Once the mixture starts boiling don't mix for 5 minutes.

After 5 minutes, remove from heat.

Add the food coloring and mix.

Then slowly add the vanilla and baking soda and mix.

Pour over the popcorn and mix together until the popcorn is coated with the caramel.

Place the popcorn on the two cookie sheets.

Place in the oven for 1 hour mixing every 15 minutes.

Once done add other goodies if you want and enjoy!
Notes
Double this recipe for a large crowds.