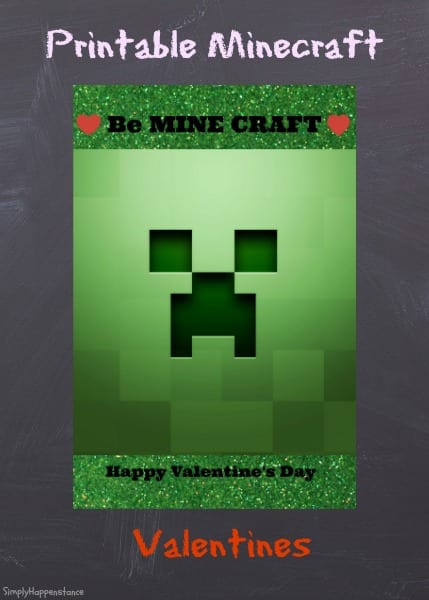 :: Printable Minecraft Valentines ::
Do you know a Minecraft fan? Has Valentine's Day "creeped" up on you? Well look no further; these simple Printable Minecraft Valentines are sure to be a hit with the biggest and littlest Mindcraft sweethearts.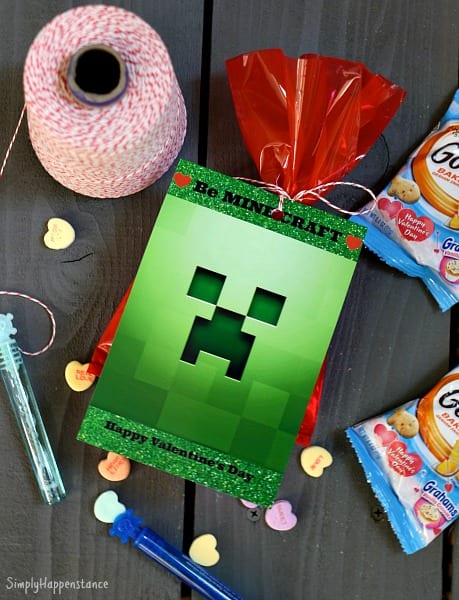 I can't believe Valentine's Day is next week! January seems to be the slowest month of the year, but this year it flown by. As a kid, I couldn't wait for to receive paper Valentines from my friends and loved ones. It's the best part of the holiday, and my kiddos are on Valentine's Day count down. They can't wait to exchange with their classmates.
Though exciting, I found myself doing the run around looking for Valentine's for my son. As he has gotten older, I have noticed that though he is in First grade, the Valentine choices seem to stop past the age of four for boys themes. We have been exchanging the same Valentines for the past couple years.
This year I decided to create my own Valentine featuring his favorite game, Minecraft. It's a simple play on words and it features the green "Creeper". The artwork of the Creeper's face was easy to find via free download. A fun green glitter background, a couple of hearts, and a Happy Valentine's Day…and whalah!
Join in the Minecraft craze, click below and you too can have your own Minecraft Valentines. One less errand to run and what is even more amazing, there are four Valentines per page. Print, cut, and distribute. Simple as that!

*Please note all printables and downloads are for personal use only and are designed and created by Simply Happestance. Do not alter the file.
Will you BE MINE CRAFT? We are getting excited to hand out our treats plus Valentines! Wishing you all a delightful and Happy Valentine's Day!