:: Easy To Make Cashew Milk ::
Sara and I are smoothie addicts. I have had a smoothie for breakfast for too many years to count. Lately, I have been in love with any type of smoothie that entails cashew milk. Instead of spending more money at my favorite juice bar, I decided to try this simple recipe on my own. This Easy To Make Cashew Milk is as simple as it gets when it comes to dairy alternatives.
With the holidays just around the corner, life is going to need a little bit of balance. Yes yes we love sweets and we can't wait to share them with you, but SERIOUSLY we aren't in our twenties any more. Sweets seem to hang on a bit longer no matter what we do, so more often than not we try really hard to be healthy (I mean really hard).
I love this simple recipe for homemade Cashew Milk. It requires minimal ingredients, and it is ready in a few hours to enjoy. I am highly addicted to cashew milk as a dairy alternative. I love almond and coconut milk too, but for some reason seems it to be closer to milk and it blends thicker making for a more filling smoothie or acai bowl. This Easy To Make Cashew Milk feels like a treat and it can all be made at home. So the next time you have a craving for something sweet, try making this recipe! I promise you will like it.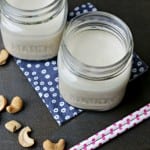 Print Recipe
Easy to make Cashew Milk
Ingredients
1

cup

cashews

2

cups

water

3

cups

filtered water for blending

2

teaspoons

vanilla extract
Instructions
In a shallow bowl add one cup raw cashews and two cups water.

Cover with plastic wrap and let the nuts soak for 4 hours.

Rinse and drain the nuts until rinsing water becomes clear.

Add the cashews and three cups filtered water to a high speed blender.

Add the vanilla extract.

Blend until smooth.
Notes
https://healthyblenderrecipes.com/recipes/home_made_raw_cashew_milk