:: Easy Mashed Potato Casserole ::
It's crazy to think that in just 8 short days we will be sitting down to Thanksgiving dinner, but don't panic! This recipe for Easy Mashed Potato Casserole will allow you to plan ahead and stress less on the big day.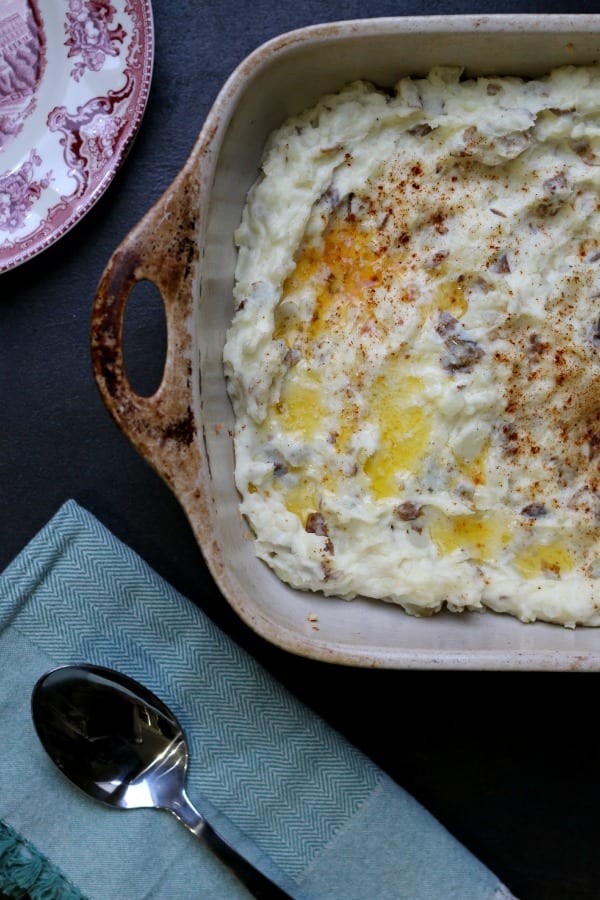 Every year we travel to our family's homes or the fire station for Thanksgiving. Because we do travel, we are often asked to bring along an easy side dish or dessert for the holidays. I have been making this Easy Mashed Potato Casserole for as long as I have been married. What I love about this side dish is that it combines the best flavors of mashed potatoes in a casserole that can be prepared ahead of time and popped in the oven for 25-30 minutes before dinner is served. How simple is that, and to top it off it is light, and makes for tasty left over's.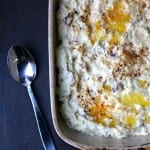 Print Recipe
Easy Mashed Potato Casserole
Ingredients
2

pounds

russet or red potatoes cut into 1 inch pieces.

1

block of 1/3 less fat cream cheese

1

cup

low-fat sour cream

1/2

teaspoon

garlic powder

1/4

teaspoon

salt

1/4

teaspoon

pepper

2

tablespoons

butter melted

1/2

teaspoon

paprika

cooking spray
Instructions
Preheat the oven to 350 degrees F

Spray a 9 x 13 inch casserole dish and set aside.

Place a large pot with water on the stove.

Bring to a boil, and add the cut potatoes (I like to leave the skins on).

Simmer the potatoes for 12-15 minutes until fork tender and then drain.

Place the potatoes, the cream cheese, sour cream, garlic powder, salt and pepper into the base of a mixer.

Mix all ingredients together until incorporated.

Place the mashed potatoes into the casserole dish and put into the oven for 30 minutes.

Take the casserole out and pour the melted butter over the potatoes and sprinkle with paprika.
Still in need of ideas for your Thanksgiving or Holiday meal? Check out our Favorite Fall Recipes for additional ideas.