:: Easy Halloween Pudding Cups ::
My kids love Halloween! If you are anything like our family, these Easy Halloween Pudding Cups will help you celebrate the big day in a fun way! These Halloween Pudding Cups are one of the easiest dessert treats I know how to make. My kids love pudding, so instead of making an elaborate dessert, I kept it super simple with a few ingredients, a couple supplies, and a switch of the food processor, and you have yourself, the cutest Halloween treat.
Really this all you need to make these Easy Halloween Pudding Cups. I set up a small work station in my kitchen. The kids loved helping with this dessert. I set up the ingredients for the pudding in a small bowl, and had Madeline mix the pudding along with the green food coloring. While she worked away on that, I set u the food processor with the chocolate sandwich cookies. Mason enjoyed pulsing the cookies down to crumbs.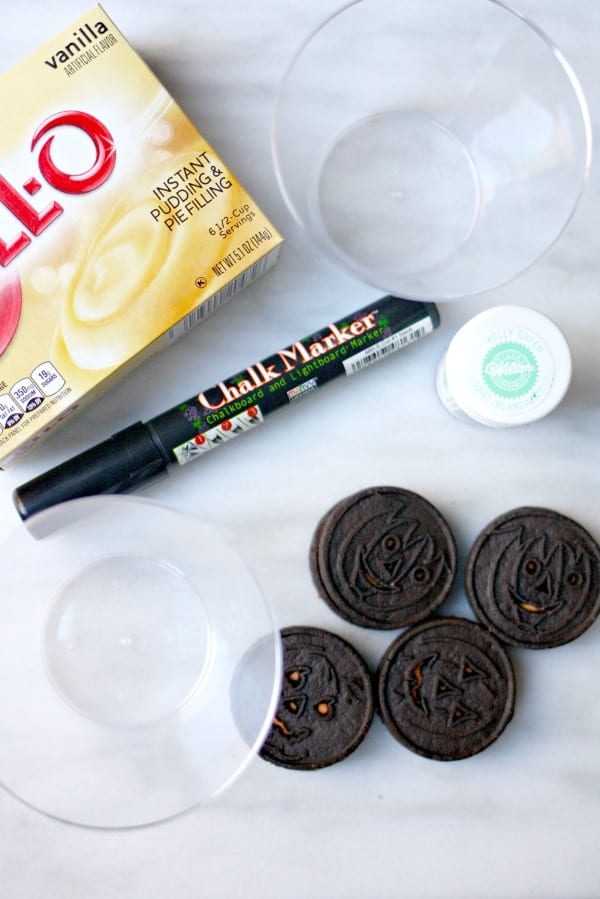 I worked on drawing the faces on the plastic cups while the kids prepared the pudding cups. Super simple and quick.
I can only capture my kid's attention for short periods of time, and they loved helping with this dessert as it took little time, it involved decorating for their favorite holiday, and they got rewarded with early dessert. I think it was a win win for all.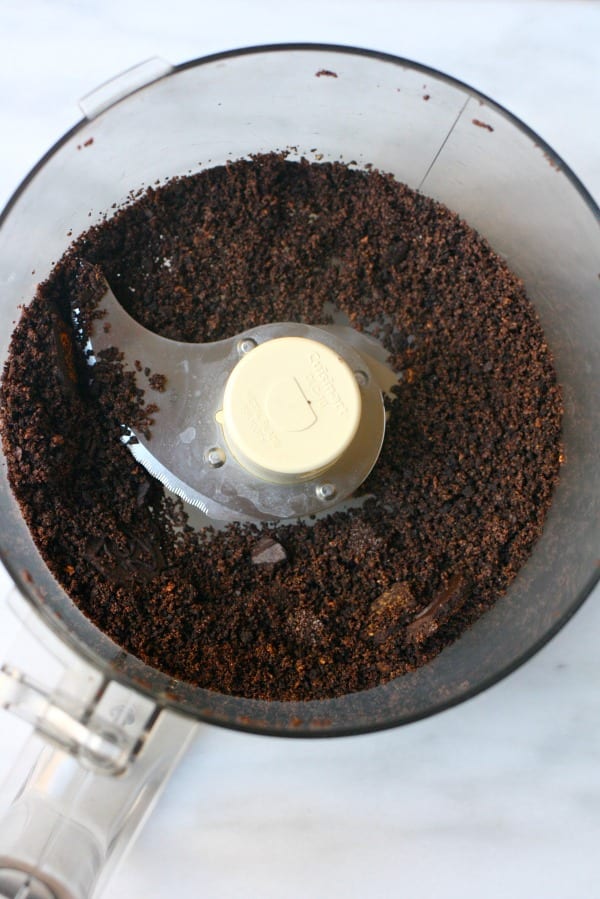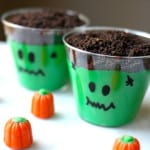 Print Recipe
Easy Halloween Pudding Cups
Ingredients
1

package of Jell-O Vanilla Pudding Mix

3

cups

milk

2

drops of green food coloring

1

chalk board pen-black

5-6

plastic cups

10

chocolate sandwich cookies
Instructions
In a bowl, whisk together the milk and pudding mix.

Mix until slightly thick and add the food coloring.

With the chalk board pen, decorate the faces on the clear plastic cups.

Spoon in the pudding until half way full and set aside.

Place 10 chocolate cookies into a base of a food processor and blend until light crumbs.

Sprinkle the cookie crumbs over the pudding cups and place in the fridge until ready to serve.
These Easy Halloween Pudding Cups are sure to put a smile any little ghoul's face. Happy Halloween!