:: Easy Green Chile Chicken ::
I don't know about you….but life has a way getting us stuck in a cooking rut.  Everyone is so busy these days that it truly gets harder day-by-day to create a simple and easy weeknight meal.  That being said I decided I needed to pull out all of my easy stops and go back to the basics.  Tacos yes tacos!  They are usually are easy and you can fill them with what ever you want.  Generally speaking the taco filling is usually the star of the show, so why not make this star a cinch by cooking it up in the Crock Pot.  All it takes is 3 main ingredients for this Easy Green Chile Chicken, add in the tortillas, avocado, and sour cream and we will tip the scales at 6.  Come on you can do this!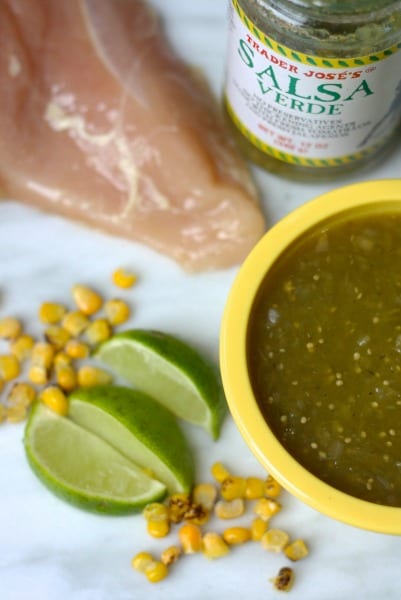 What makes this Easy Green Chile Chicken so darn easy is really the method of cooking.  Using the Crock Pot on the low setting, and simply dumping in two jars of Salsa Verde, a bag of frozen corn, and 1 1/2-2 lbs of chicken breast you have the base of an easy weeknight taco meal.  No need for Taco Tuesday when you are done making this recipe, you will wonder why you didn't make it sooner.  What makes me the happiest about this recipe, there are often left-overs of the chicken, so it makes for a double meal when life gets too busy to cook.  I freeze half of this Easy Green Chile Chicken for a later date when I don't feel like cooking or my hubby is away at work.  A big save for this mama!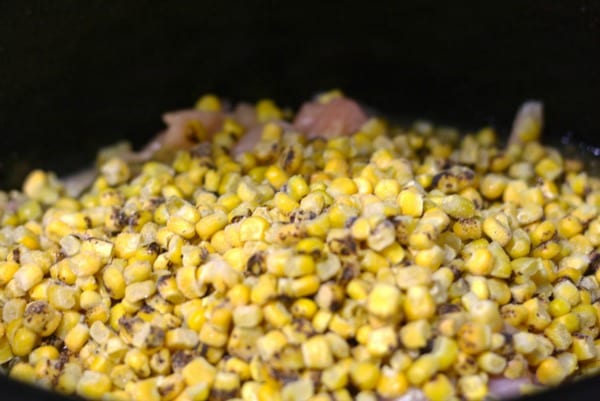 This chicken also tastes amazing as a Sunday morning omelet.  Add this green chile chicken in between your egg omelet and sliced avocado and you have a southwestern breakfast, yum!! Sometimes I even make this when we decide to have breakfast for dinner.  An interchangeable meal makes me remember why I love this Easy Green Chile Chicken.  My stomach is growling so it's time for me to share how to make this. Enjoy!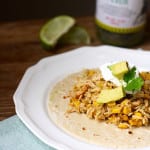 Print Recipe
Easy Green Chile Chicken
Easy Green Chile Chicken. Perfect for tacos. Easy three ingredients plus the fixings for tacos, makes this a simple weeknight meal.
Ingredients
2

jars of Salsa Verde

12 ounces each.

1 1/2-2

pounds

chicken breast

1

14 ounce bag of frozen corn. ( I used fire roasted)

avocado

tortillas

sour cream
Instructions
Place your crock pot on your counter top.

Place the chicken breast in the crock pot.

Pour the bag of frozen corn over the chicken.

Pour the two jars of salsa verde over the chicken.

Place the lid of the crock pot on.

Set on low for approx. 8 hours.

Serve on a tortilla and top with avocado and sour cream.