:: Chocolate S'mores Treat ::
Who is ready for summer? I can see the hands and hear the cheers! This Chocolate S'mores Treat is perfect for a last minute Memorial Weekend dessert. Chocolaty and easy this s'mores treat will make you the hit of your next barbeque!
I love the summer and I love last minute get-togethers. Sometimes, I have a hard time keeping it simple. I love having a few recipes that I know that I can whip up with as little effort as possible, and better yet something that does not require me to use my oven. This recipe is just that. It was introduced to me my one of my lovely neighbors years ago. We had this at every barbeque and get together during that season of our lives when we were newly married. Our first home was a town house. Our neighbors/friends were all around the same age and all at the same point in our lives. It was a great time in life. We loved putting together events that involved food and fun.
I made these this past weekend for a family camp weekend. Though camping and roasting marshmallows by the fire go hand and hand, our first night camping was busy with set up and meeting new families. We went with Madeline's Indian Princess group so I decided to keep it simple with this Chocolate S'mores Treat. I don't know if it was the kids that devoured these tasty treats, or the adults that feasted on them while playing a fun game of Liar's Dice. Either the way, the tray was licked clean. We hope you enjoy this dessert over Memorial Weekend!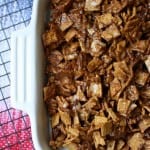 Print Recipe
Chocolate S'mores Treat
No need to break out the camp fire, this easy s'mores treat can be enjoyed all year long.
Ingredients
3

Hersey Chocolate Bars

chopped

1

bag of mini Jet Puffed Marshmallows

6

cups

of Golden Grahams

1

teaspoon

vanilla

6

tablespoons

unsalted butter

cooking spray
Instructions
Unwrap the 3 Hersey Chocolate Bars.

Place on a cutting board and chop into chunks.

Set aside.

Grease a 9x13 pan and set aside.

In a large pot add the 6 tablespoons of butter.

Place on the stove top and cook on low and allow the butter to melt.

Add the marshmallows.

Lightly mix the marshmallows until they are melted with the butter.

Add the vanilla and mix.

Turn off the heat and set aside.

Pour the Golden Grahams into a large bowl.

Add the marshmallow mixture.

Add the chocolate bars.

Mix with a large spoon until the cereal is evenly coated.

Pour the mix into the greased pan.

Distribute the mix evenly and enjoy.