:: Cheesy Game Day Dip ::
Can you believe Super Bowl is this weekend? Who are you cheering for… and most important of all, what are you making to enjoy during game time? This Cheesy Game Day Dip is a cinch to make. It requires a few ingredients and it will get your guest talking about "how did you make this?" rather than discussing this whole deflate gate situation.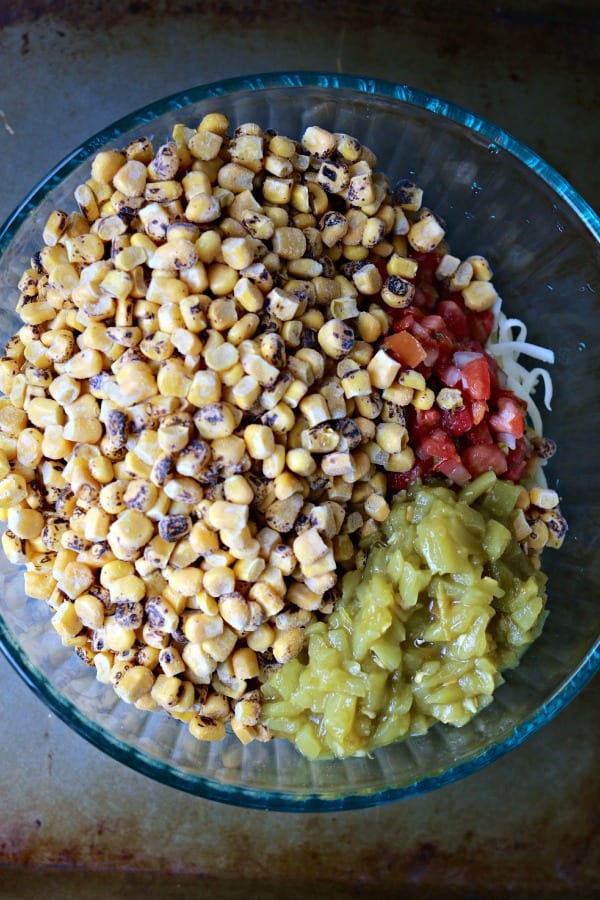 I am not a huge pro football fan. In fact, the only time I have been to a pro game was at Mile High watching The Broncos versus The Raiders, and though it was a great time, I prefer college football. Don't get me wrong… football season is my favorite time of the year, but as for the actual Super Bowl, I get more excited just thinking about what I am going to make and eat rather than the hype of the actual game! As you can guess, I am not hugely rooting for one team over the other, but let's just say this West Coast girl is hoping for a Pacific Coast team to grab the win!
Print Recipe
Cheesy Game Day Dip
Ingredients
1

tub pico de gallo

drain slightly

1

bag of frozen corn

2

cups

shredded pepper jack cheese

1

cup

light mayo

1

can of diced green chiles
Instructions
Preheat the oven to 350 degrees F.

In a bowl dump all of the ingredients.

Mix together until incorporated.

Pour the ingredients into a 9x9 greased baking dish.

Place in the oven for 40 minutes.

Enjoy with tortilla chips.
Notes
This recipe is adapted from an old Trader Joe's recipe that I have had for years. Sometimes I do half jack and half sharp cheddar cheese, and sometimes I eliminate the mayo and use the pico de gallo undrained. The mayo acts as a binder making it rich and cheesy. Perfect game day munchies.
Enjoy!