:: Book Review ::
We are very excited for a Book Review from our friend Kim over at Book Reader Chronicles.
Are you bored with summer television shows? Check. Want a good book suggestion? Check. Want to get in on this book before it comes out in the movie theaters next month so that you know what the hype is all about? Check and triple check.

If you don't know what is popular or a must read, head over Kim's site at Book Reader Chronicles or check her out on Facebook.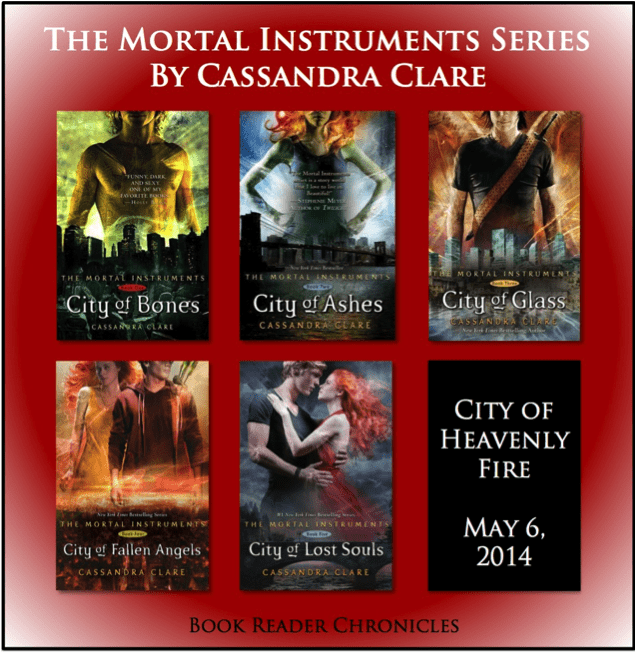 With the success of Twilight and The Hunger Games, Hollywood has been paying attention to books and turning them into movies. The newest book to movie franchise is City of Bones, one of Cassandra Clare's THE MORTAL INSTRUMENTS series, which is due out in theaters on August 21st.
The Mortal Instruments series introduces us to the world of Shadowhunters – descendants of angels put on this earth to protect humans from demons. These Shadowhunters live in the shadows and humans – commonly referred to as "mundanes" – never see them. Cassandra Clare created a world that brings you face to face with vampires, werewolves, fairies, warlocks and demons. There are a total of six books in the series, with the final book, City of Heavenly Fire set to release next year.
City of Bones, the first book of the series, introduces Clary Fray, ordinary sixteen year old girl – or at least that's what she's been led to believe. After witnessing a killing that she was not supposed to see, she is thrust into the Shadowhunter world. Although it may seem foreign to her, Clary is intrigued by these Shadowhunters who are her age, especially to the enigmatic Jace.
After her mother is kidnapped, Clary must get a crash course into the Shadowhunter world. With the help of some new friends, Clary begins to learn who she is and finds that this world is not as unfamiliar as she once thought.
I loved these books. They are great for teens – ages 13 and up and adults a like. If you loved the Twilight books, then I think you will really enjoy this escape into a new world. Grab City of Bones now before the movie comes out! You will not be disappointed!