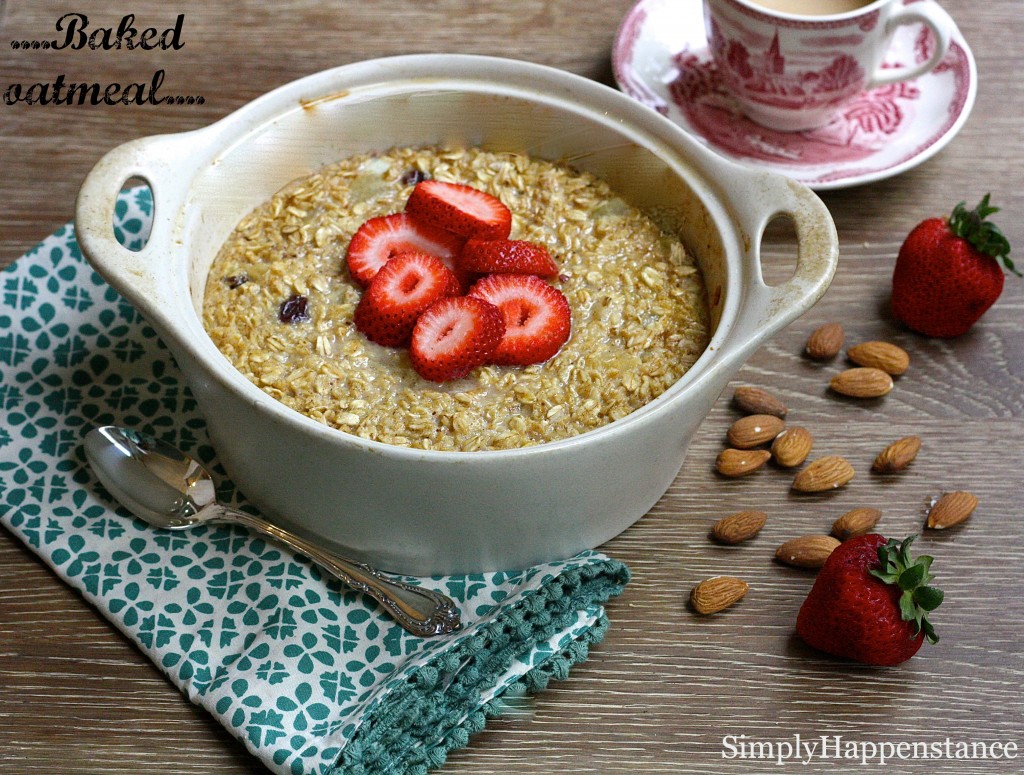 :: Baked Oatmeal ::
In California we are synonymous for "May gray" and "June gloom."
Since it has been a few mornings of gloom in this lovely month of June, I decided to make some Baked Oatmeal.

It is one of my favorite breakfast recipes.

It is homey and filling and reminds me of the Fall.

I know, I know, its not fall, but sometimes I like to pretend it is.The aroma of cinnamon and applesauce will make your house smell like heaven. Though it sounds rich, it definitely is a light recipe.

What I love about this wonderful Baked Oatmeal is that it can be made the night before.

You can prepare all of the ingredients and then just pop into the oven.

Simple as that, and it makes wonderful left overs.
Baked Oatmeal
Easy and healthy baked oatmeal.
Ingredients
2

cups

uncooked quick cooking oats

1/3

cup

brown sugar

1/3

cup

dried cherries or raisins

1

teaspoon

baking powder

1

teaspoon

of cinnamon or pumpkin spice

1 1/2

cups

almond milk

1/2

cup

apple sauce

I prefer chunky

2

tablespoons

melted butter

1

large egg beaten

cooking spray
Instructions
Preheat the oven to 375 F.

Spray an 8 inch baking dish with cooking spray.

In a small bowl combine the oats, cinnamon, dried cherries, and baking powder.

Mix well.

Add milk, applesauce, butter, and egg to the oat mixture.

Mix well until fully combined.

Pour the ingredients into the baking dish.

Place in the oven for approximately 20 minutes.
Notes
All ovens cook differently. Make sure to check on the oatmeal after 15 minutes. You do not want it to dry out. Add nuts to the mixture if you prefer. I like to add almonds to my individual bowl of oatmeal. Top with seasonal fruit. You can exchange the almond milk for fat free milk.
Adapted from Cooking Light
The next time you too are feeling bored with breakfast, I highly recommend whipping up a batch of Baked Oatmeal. The kids will love it and so will you. You will give yourself a pat on the back for getting out of your usual breakfast funk. Hey it's summer, nothing like the present to give something new a try. I know I am glad I switched up the routine. One more day of the usual, and I think this Mama was going to die of boredom. Sara and I are hopeful that this season will be one in which we can continue to try out some of our new loves as well as some old ones. We hope you like them. Happy summer my friends! Now go to your pantry and make some heart healthy oatmeal!