Pumpkin Chocolate Chip Bread With Brown Sugar Crumble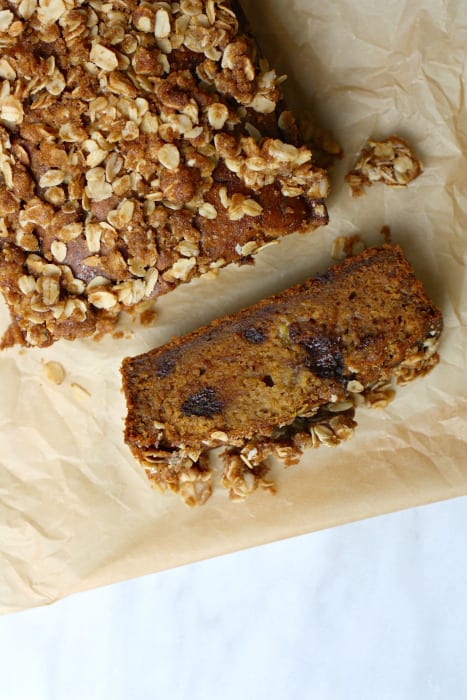 Author:
Simply Happenstance
2 ripe bananas
⅓ cup applesauce
1¼ cups flour
¾ teaspoon baking soda
¼ teaspoon salt
2 tablespoons butter (softened)
¼ cup chocolate chips
⅓ cup pumpkin puree
½ teaspoon vanilla
⅓ cup brown sugar
2 egg whites
*For the topping
¼ cup brown sugar
2 tablespoons butter (softened)
½ cup oats
Preheat the oven to 325 degrees F
Spray a non-stick loaf pan and set aside.
In a small bowl whisk together the salt, flour, baking soda, and salt.
Set aside
In the bowl of mixer add the butter and brown sugar.
Mix
Add the egg whites and mix again until incorporated.
Add the bananas, applesauce, and vanilla.
Mix
Add the pumpkin puree and mix until incorporated.
Turn the mixer off and add the dry ingredients a half cup at a time mixing between each cup.
Don't over mix.
Turn the mixer off and add the chocolate chips and mix by hand.
Pour the bread mix into the loaf pan.
Place in the oven for approx. 30 minutes.
While the bread is cooking, make the topping.
Place the brown sugar, butter, and oats into a small bowl.
Mix together by using a fork allowing for a chunky topping mixture.
Pull the bread out of the oven after 30 minutes and sprinkle the topping over the bread.
Place the bread back into the oven for an additional 10 minutes or until fully cooked in the center.
Recipe by
Simply Happenstance
at https://www.simplyhappenstance.com/pumpkin-chocolate-chip-bread-with-brown-sugar-crumble/