Red White and Blueberry Cupcakes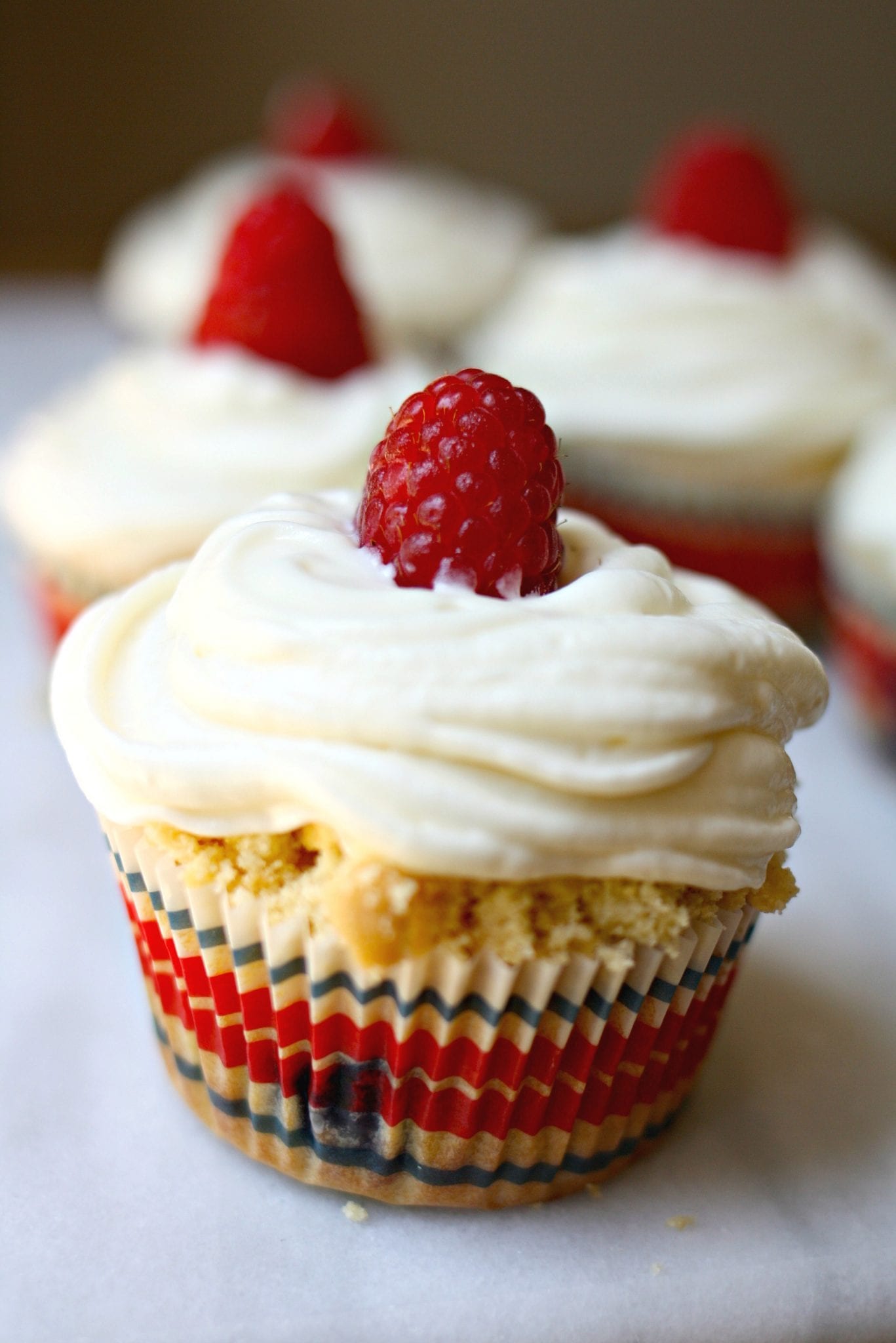 Author:
Simply Happenstance
For Cupcakes:
1½ cups all purpose flour
1½ cups cake flour
1 tablespoon baking powder
1 teaspoon salt
2 sticks of unsalted butter (1 cup)
1¾ cup sugar
4 eggs at room temperature
2 teaspoons vanilla
1½ cups milk ( I used 2 %)
1 pint of blueberries
1 pint of raspberries
4 oz. Mini Scottie Shortbread Cookies (crushed)
For Frosting:
1 block of cream cheese (at room temperature)
1 cup of sugar
1 teaspoon of vanilla
1½ cups cold heavy whipping cream
⅛ teaspoon salt
First make the Whipped Cream Frosting.
In the bowl of an electric mixer with the spatula attachment, mix the cream cheese, sugar, vanilla and salt.
Remove this mixture and place in a medium size bowl.
Clean the mixing bowl and attach the whisk attachment to your mixer.
Pour the heavy whipping cream into the bowl.
Whip until firm peaks form.
Once done gently fold in the whipped cream a portion at a time into the cream cheese mixture until fully mixed.
Cover this bowl and place in the fridge.
For the cupcakes:
Preheat the oven to 350 degrees F.
Line standard or mini muffins tins. These make approx. 30 standard cupcakes.
Take 4 oz. of Mini Scottie Shortbread Cookies.
Place in a ziplock baggy and roll over the cookies with a rolling pin.
Once the cookies are crumbled set aside.
With an electric mixer on medium-high speed, cream the butter and the sugar until fluffy.
Add each one of the eggs one at a time and beat in between each one.
Scrape down the side of the bowl.
Add in the vanilla and beat until mixed.
Reduce the speed to low.
Add in the flour and milk in batches. Alternating each one and beat until combined.
Fold in the blueberries by hand.
Scoop the batter into each of the muffin tins equally.
Set in the oven to bake for approx. 25 minutes.
Let the muffins cool then top with a layer of shortbread, then frosting, and top with a raspberry.
Whip until firm peaks are formed and it looks like whipped cream.
Recipe by
Simply Happenstance
at https://www.simplyhappenstance.com/red-white-and-blueberry-cupcakes/