Cheesy Tamale Pie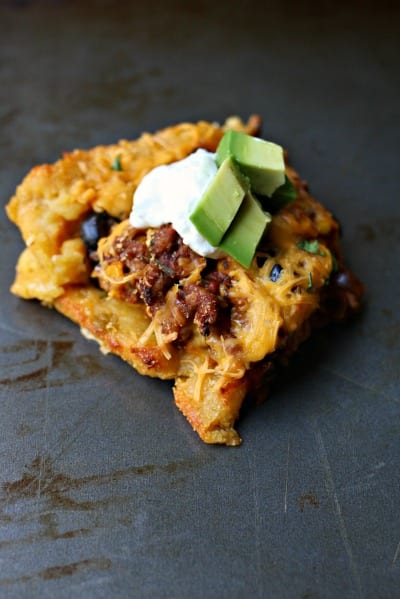 Author:
Simply Happenstance
Filling:
1 lb. lean ground beef or turkey meat
1 small onion chopped
1 (16 oz.)jar salsa
⅓ cup water
1 pkg. taco seasonings
1 cup frozen corn kernels
1 can can sliced olives drained
Crust:
1 cup yellow or white corn meal-I used jiffy corn bread mix
1 can (12 oz.) low fat evaporated milk
1 can diced chiles
1 cup shredded cheese
Toppings
sliced avocado
sour cream
Preheat oven to 425 F.
Grease a 9x13 casserole dish and set aside.
For the filling:
Cook the meat and onion (chopped) in a large skillet until the meat is browned.
Drain the meat.
Stir in the salsa, water, and taco seasoning.
Reduce the heat to low and cook until the liquid is dissolved.
Add in the olives and corn.
Turn the heat off.
For the Crust.
In a large sauce pan, combine corn meal, green chiles, and evaporated milk.
Stir together.
Add in a half cup of cheese.
Keep continuing to stir until the mixture has thickened (approx. 5 minutes.)
Spoon the crust mixture out of the saucepan and layer it on the bottom of the 9x13 casserole dish.
Make sure to flatten it out across the whole pan.
Then spoon the meat filling on top of the corn crust.
Bake for 25 minutes.
Pull the casserole out and top with remaining cheese.
Place back in the oven for 5 more minutes until cheese is melted.
Let cool and serve with avocado and sour cream.