Easy Green Chile Chicken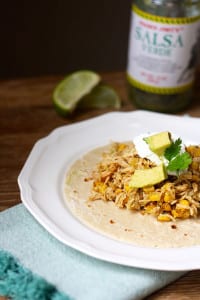 Author:
Simply Happenstance
Recipe type:
Weeknight Crock Pot Meal
2 jars of Salsa Verde (12 ounces each).
1½-2 pounds chicken breast
1 (14 ounce) bag of frozen corn. ( I used fire roasted)
avocado
tortillas
sour cream
Place your crock pot on your counter top.
Place the chicken breast in the crock pot.
Pour the bag of frozen corn over the chicken.
Pour the two jars of salsa verde over the chicken.
Place the lid of the crock pot on.
Set on low for approx. 8 hours.
Serve on a tortilla and top with avocado and sour cream.